This is one of my favorite lunches or suppers to make!  It's easy and delicious!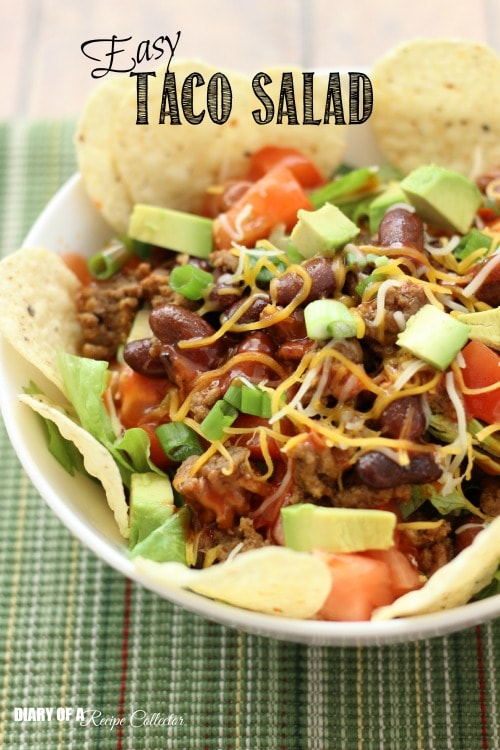 Looking at this photo totally makes me want to make these again!  Even as a child I loved taco salads.  It's a nice little change from regular tacos with the addition of kidney beans and Catalina dressing.  Pile on any fresh veggies you like and you are set!  If you are watching what you're eating, it's easy to use ground turkey too.
They would make a really great work lunch too.  Just pack up everything separately and you are good to go!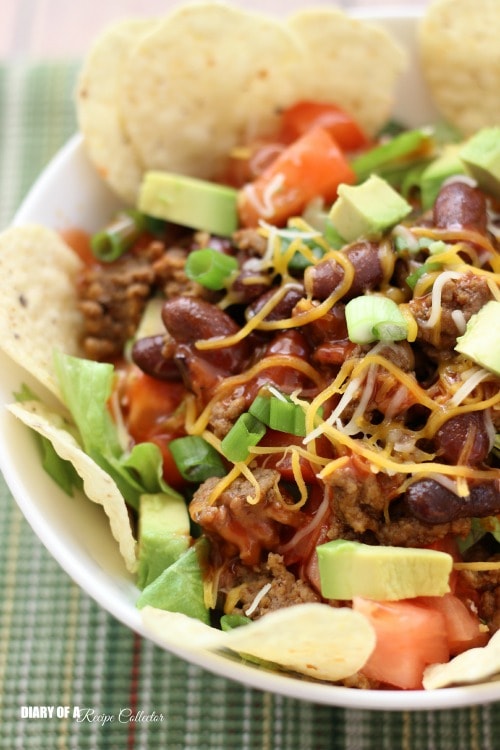 I might just have to make these again this week!  I need quick and easy as usual.  My daughter has cheer practice every day but Wednesday.  On Wednesday, we have church.  We leave on Friday to head to New Orleans for her competition.  It will be her first one!  She's on a "mini" team.  They are just so precious!  I'm so excited!
Hope you have a great week!  I'll be back later in the week with an awesome pizza!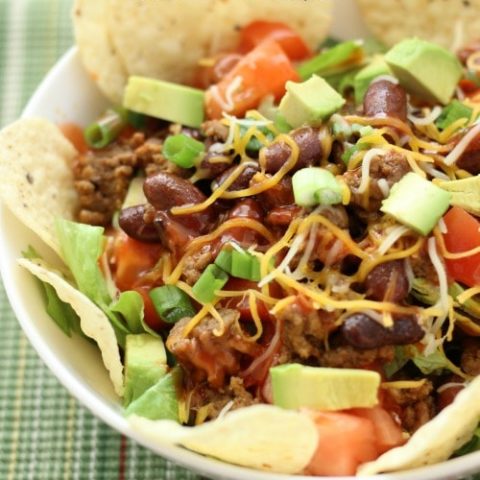 Easy Taco Salads
Ingredients
1 lb. ground beef
1 taco seasoning packet plus recommended water on packet
1 15 oz. can kidney beans, drained and rinsed
1 cup iceberg lettuce, shredded or torn
1 large tomato, chopped
2 green onions, chopped
1 avocado, diced
Catalina dressing
Shredded cheese
Bite size tortilla chips
Instructions
Brown ground beef.
Add taco seasoning packet and continue to cook according to package directions.
Mix in kidney beans and cook for 4-5 more minutes and remove from heat.
To serve: Add chips to bowl. Top with ground beef mixture, veggies, dressing, and shredded cheese.
 Other recipes you might enjoy: