Nutella Swirl Puffy Pancake – An easy to prepare oven-baked pancake filled with swirls of Nutella.

So I'm the biggest scatterbrain here lately since school has started. You would think that I was all caught up with everything now that I've had a little extra time . It is quite the opposite. I feel like I have one-million balls in the air right now…and several are about to drop.
Like yesterday, I knew it was Wednesday, and I knew in the back of my mind that we had something to do that afternoon. Then I realized that stuff doesn't start for a few more weeks. I went on about what I was doing. Then it hit me last night about 9 pm. Oh yeah…I signed my 3 year old up for gymnastics last week…on Wednesday afternoons.
The sad part is that it was on my calendar… #momfail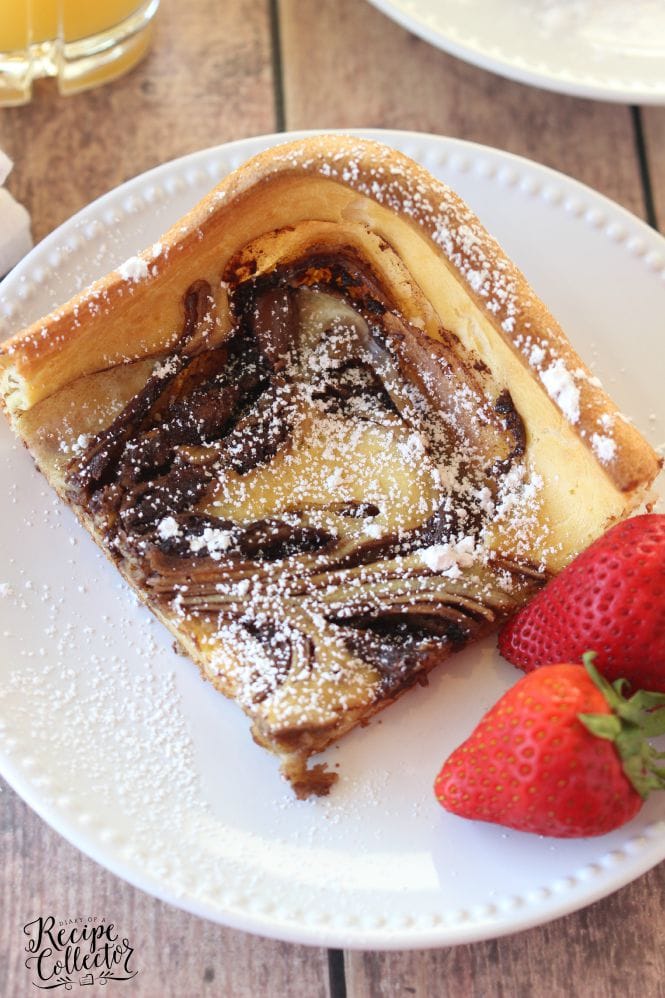 I'll get back into this routine eventually. I have to write EVERYTHING down, and as you can see, it doesn't always help. Do you guys ever do this? I know my family laughs at me because I seem to always be forgetting something lately. Such is life with kids, right?
But even if you do not have kids, you will love this Nutella Swirl Puffy Pancake. My daughter could literally eat her weight in Nutella. So I knew she was going to LOOOOVE this pancake. And she did.
They thought this oven-baked pancake was the coolest thing ever! They really are neat the way they bake up the sides and curl over. Let's face it. You don't have to be a kid to think that's cool!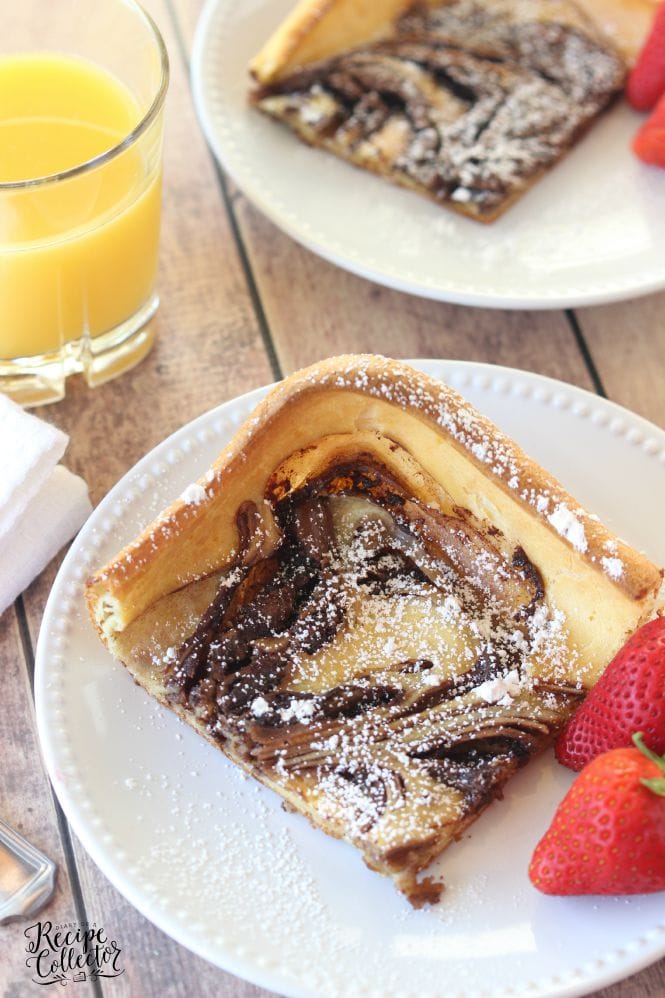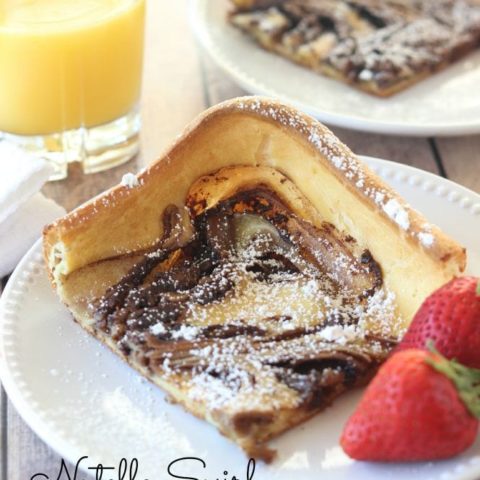 Nutella Swirl Puffy Pancake
Yield: 6 slices

Prep Time: 15 minutes

Cook Time: 30 minutes

Total Time: 45 minutes
Ingredients
2/3 cup water
1/4 cup butter
1 cup baking mix (Bisquik)
4 eggs
6 tbsp Nutella
Powdered sugar
Instructions
Preheat oven to 400 degrees.
Spray a 9 x 13 casserole dish with cooking oil spray.
In a small saucepan, heat water and butter until boiling.
Reduce heat to low and add baking mix. Stir quickly for about a minute. Mixture will form a ball.
Remove from heat. Stir in two eggs, stirring until completely combined before adding the next two eggs. Stir until completely combined again.
Spread into bottom of casserole dish. Do not spread up the sides.
Dollop the 6 tbsp of Nutella evenly out over the batter. Use a knife to swirl the Nutella into the batter.
Bake for 30 minutes or until sides are golden brown. Slice to serve and top with powdered sugar.
Recommended Products
As an Amazon Associate and member of other affiliate programs, I earn from qualifying purchases. This helps us keep our blog running efficiently and allows us to create more recipes for you.



Looking for other breakfast recipes?
Sausage Egg & Cheese Croissant Bake