Make-Ahead Chicken Enchilada Stack – A quick and easy freezer-friendly recipe that is a perfect busy weeknights.
When I get organized and prep meals like this Make-Ahead Chicken Enchilada Stack, I feel like I'm winning at life. It's such a great feeling to pull something out of the freezer, put it in the oven, and call dinner done.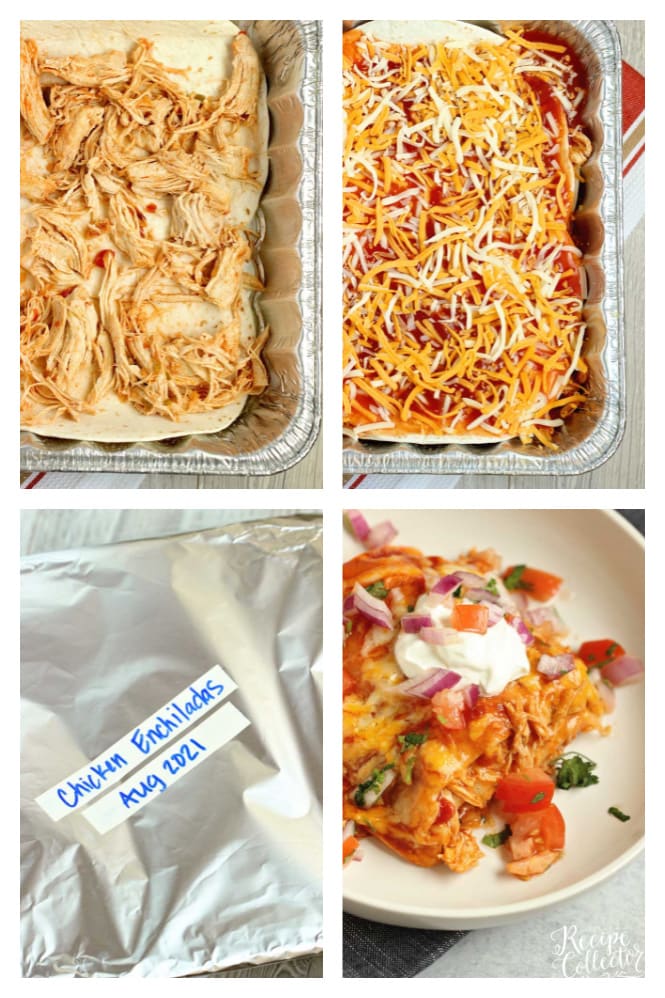 This make ahead recipe uses my recent recipe for Instant Pot Salsa Chicken. I make a batch of that recipe and I have enough for two dinners of this chicken enchilada stack. I make one for dinner and freeze one for later!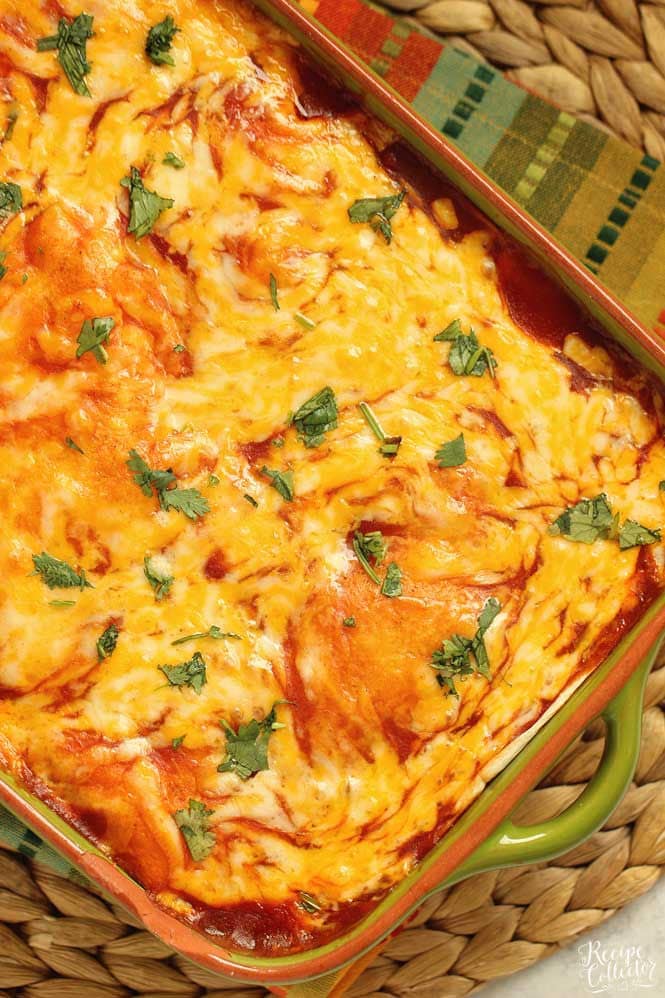 I make my own pico, but you can totally buy one store bought or just buy some salsa to top.
Make-Ahead Chicken Enchilada Stack:
Use this recipe for the chicken! It's super easy with the help of the Instant Pot. But you can also cook your chicken in the slow cooker on low for about 7 hours.
If you only want to make one enchilada stack, I use 3 chicken breasts. Five chicken breasts are good for doubling your recipe. Make one for dinner tonight, and freeze one for later! See recipe for how to do this.
I use an aluminum disposable pan for the freezer. I wrap it in layers of heavy duty foil, and don't forget to label it!
Top it with fresh pico, store-bought pico, or just some chopped tomatoes.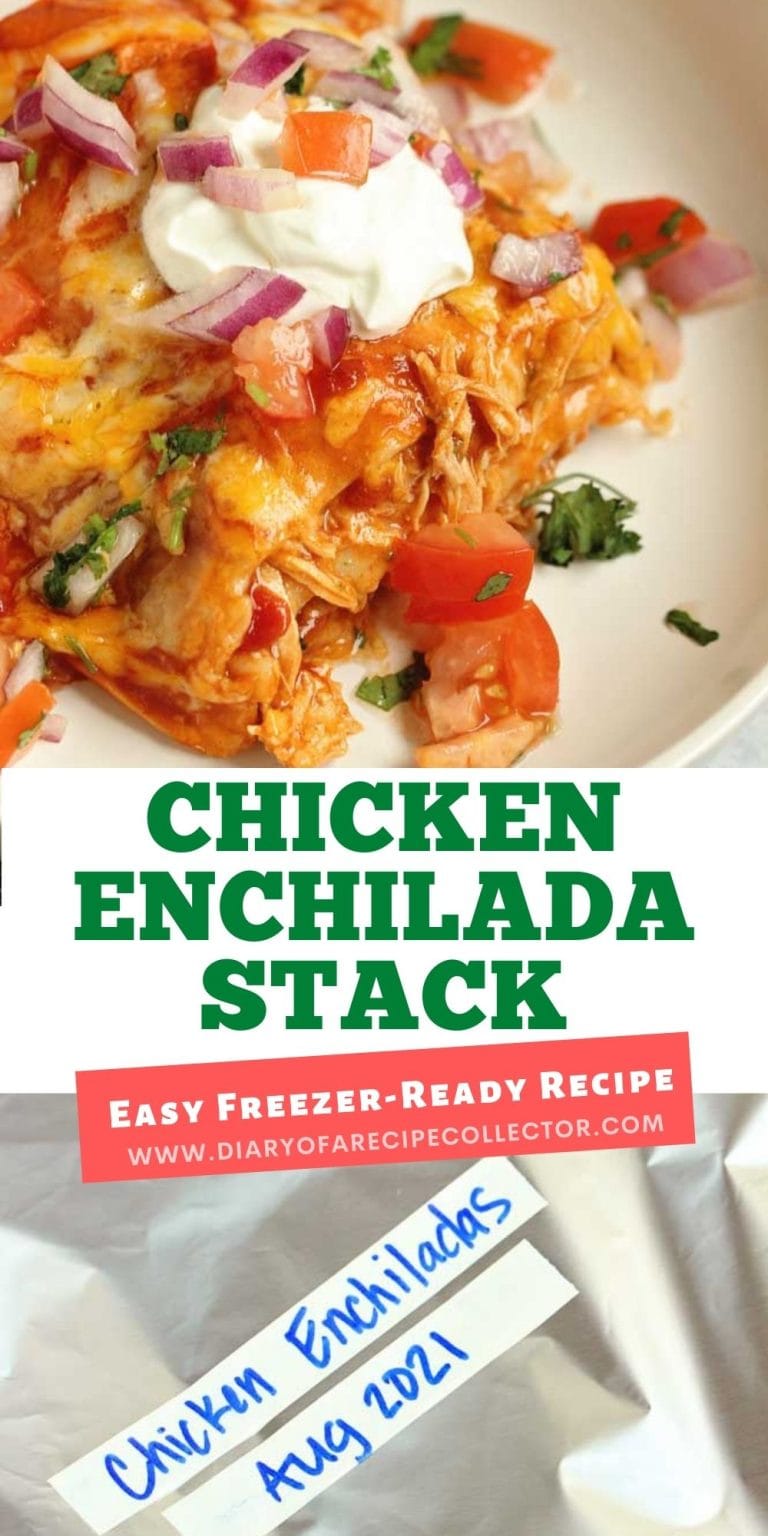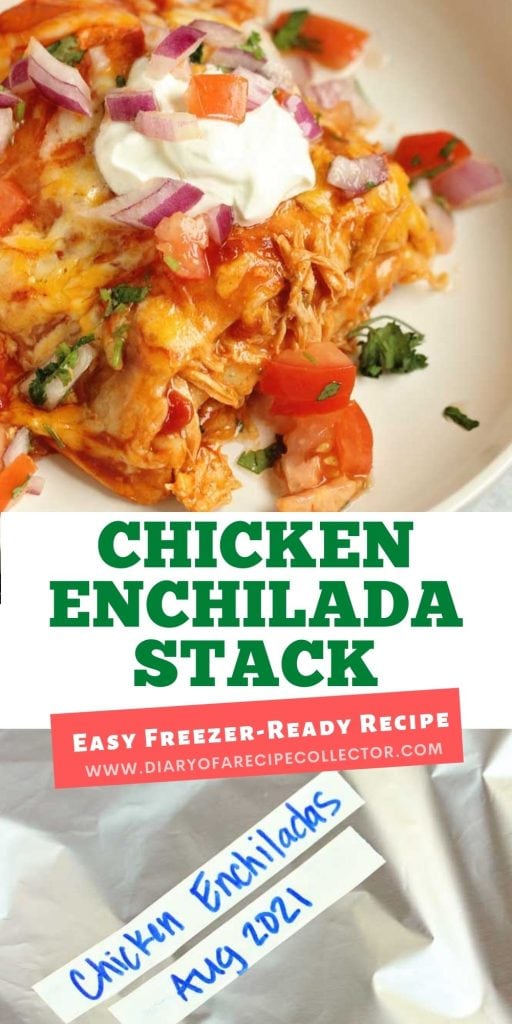 Connect with Diary of a Recipe Collector! Follow us on social media, so you never miss a recipe!
Email Subscription | Facebook | Instagram | Pinterest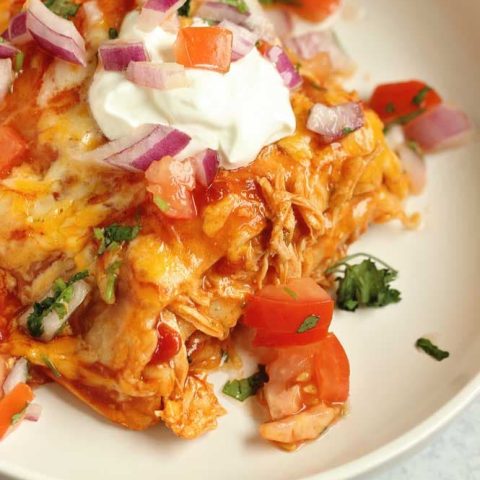 Make-Ahead Chicken Enchilada Stack
Make-Ahead Chicken Enchilada Stack - A quick and easy freezer-friendly recipe that is a perfect busy weeknights.   
Ingredients
3 chicken breasts
15.5 oz salsa
3/4 cup water
1 tsp creole seasoning
6 soft-taco size tortillas
10 oz red enchilada sauce
3 cups shredded Colby Jack cheese
Toppings: sour cream, cilantro, green onions, pico de gallo
Instructions
Salsa Chicken:
1. Place chicken in instant pot. Season with creole seasoning.
2. Mix salsa and water together. Pour over chicken.
3. Cover with lid and seal valve. Cook on Manual for 20 minutes. If chicken is frozen, cook on manual for 25 minutes. Instant Pot will take about 15 minutes to come to pressure before it starts to count down.
4. Let it naturally release pressure for about 5 minutes once it is done. Remove lid and shred chicken.
5. Press off and then saute for about 5 minutes to let shredded chicken sit in sauce some more.
*You can also do this in a slow cooker. Cook chicken on low for 7 hours.
For Make-Ahead Enchiladas:
1. Spray a foil casserole pan with cooking oil spray.
2. Lay 2 tortillas in bottom of pan. Top with 1/2 of shredded chicken and 1 cup of shredded cheese. Repeat layer of tortillas, other half of chicken, and 1 more cup of cheese. Top with last 2 tortillas. Pour enchilada sauce over the top. Top with last cup of cheese.
3. At this point, you can bake it at 350 degrees for 30 minutes or wrap it in layers of heavy duty foil to freeze. Bake from frozen at 350 degrees for 1 hour.
Notes
Want to make enough for 2 enchilada stacks? I use 5 chicken breasts, 2 cups salsa, 3/4 cup water, and a tsp of creole seasoning.
Recommended Products
As an Amazon Associate and member of other affiliate programs, I earn from qualifying purchases. This helps us keep our blog running efficiently and allows us to create more recipes for you.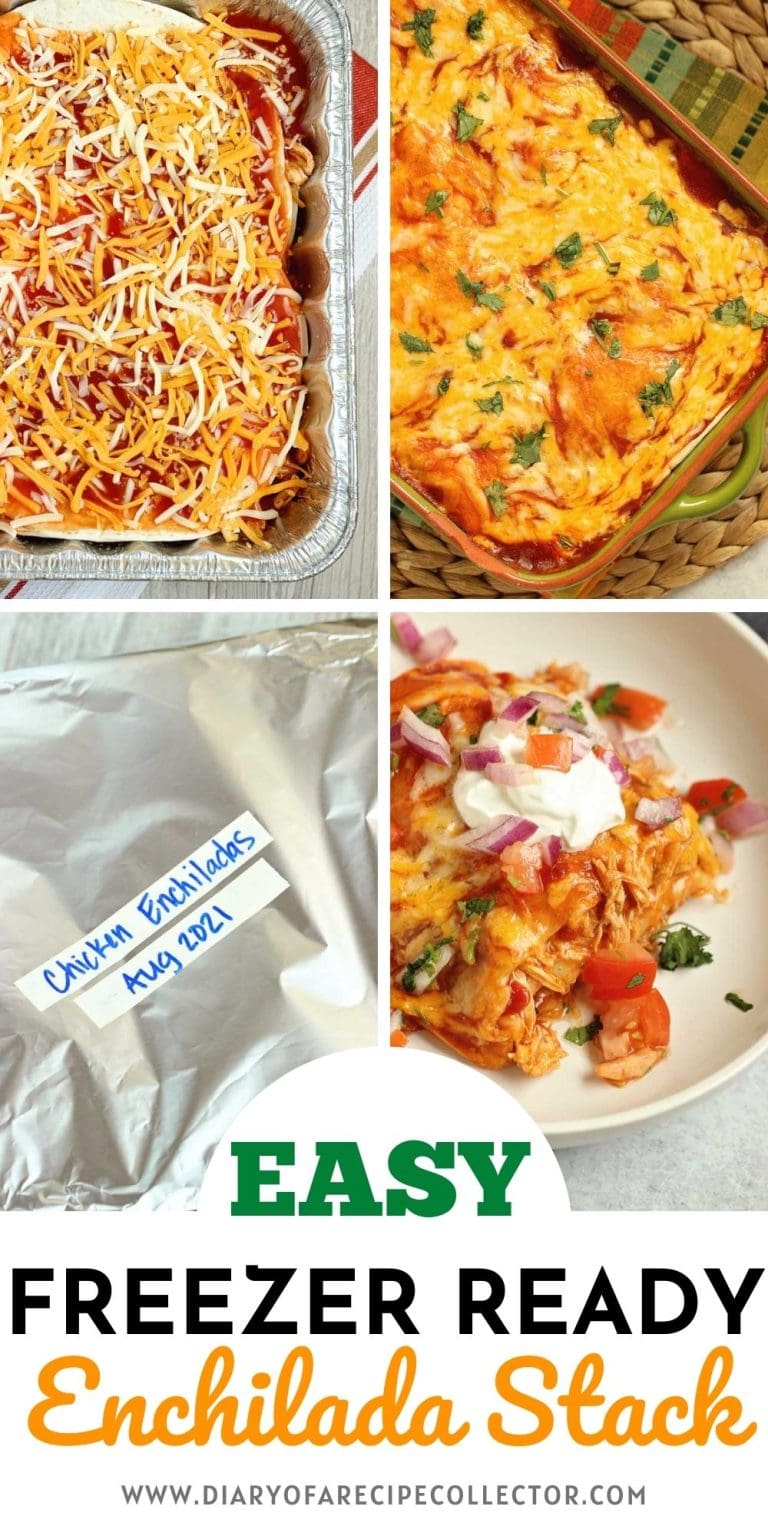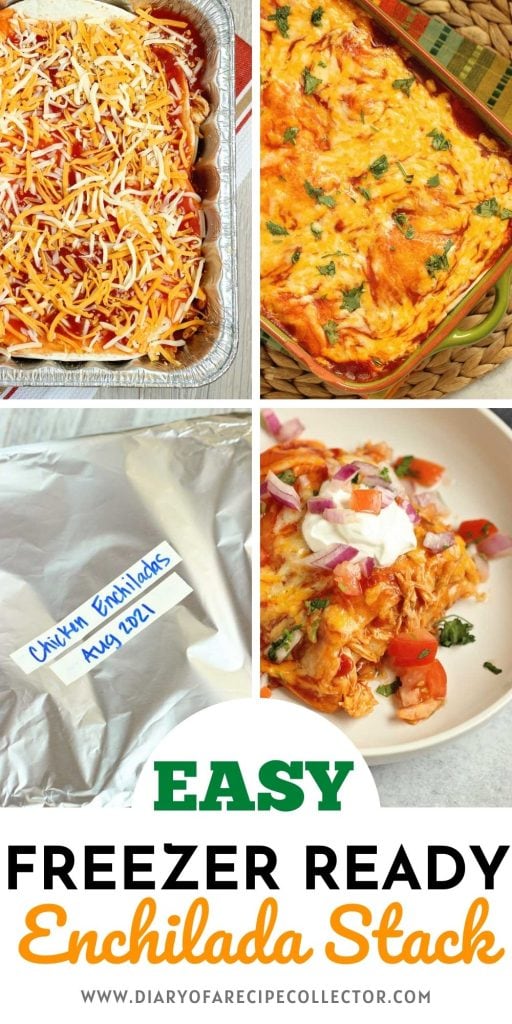 You can find more MAIN DISH RECIPES HERE.
You can find ALL RECIPES HERE.
For more ideas, follow me on FACEBOOK, PINTEREST, INSTAGRAM, AND TWITTER.
Get FREE recipes delivered to you by email: SIGN UP HERE!