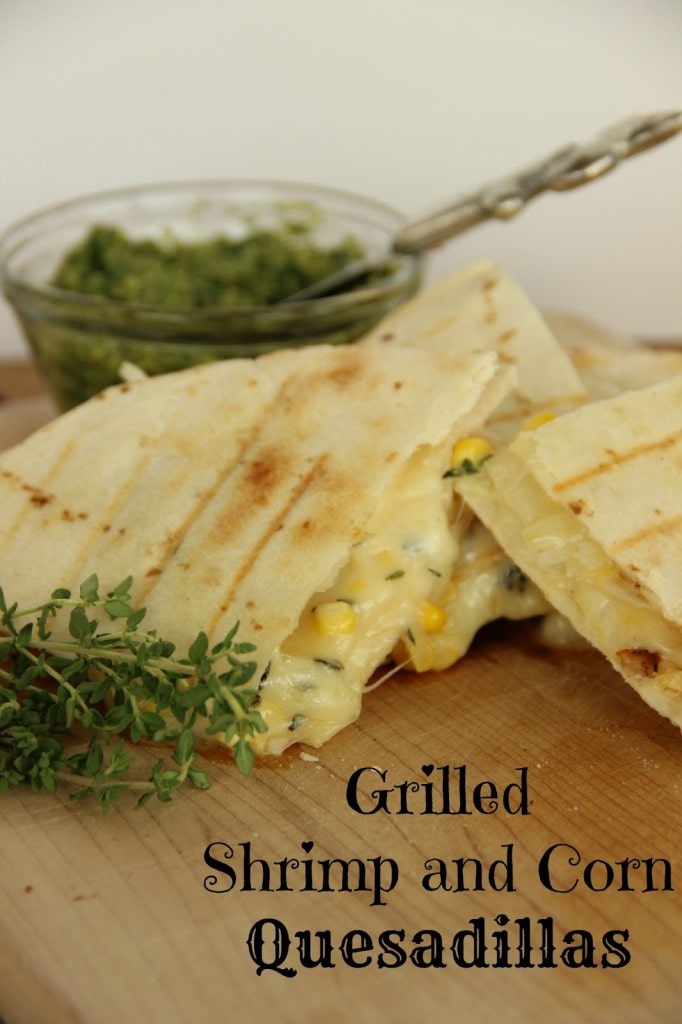 Here's another great Saturday night grilling recipe!  These are yummo!  They are great for having a couple of friends over too!  They come from Bobby Flay's Boy Gets Grill cookbook.  Last week I shared his
Grilled Pizzas
, which are another great Saturday night grilling meal.
Now onto a lot of photos, but they will make the stacking and layering easy to see.  These are not your average quesadillas!  They are double-stacked!  Needless to say, they are VERY filling.  I had trouble eating a whole one, and I promise I can eat some quesadillas!
It all starts off with grilled shrimp seasoned with salt and pepper and brushed with a little olive oil.
Meanwhile, back in the kitchen, you'll begin layering corn…
thinly sliced sweet onions, shredded jack and white cheddar…
followed by grilled shrimp…
 top with another layer of tortillas (I used some wheat because I ran out of white-still tasted great)
 Repeat with corn, onions, cheese and shrimp…Sprinkle a little thyme…
Finally, end with a third tortilla.   Slide them onto sheet pan (which has been brushed with olive oil).  Brush top of quesadillas with a little more oil.
Slide off of pan onto grill over medium heat.
We have found the easiest way to flip these is to slide them back onto the sheet pan, flip them, and slide off.  This gives you a little more security and if anything falls out, the pan will catch it.
Finish grilling..
Finally, serve with this smoked jalapeno pesto…as with all Bobby Flay recipes, he makes killer condiments!
Recipe:  Adapted from Bobby Flay's Boy Gets Grill
3 ears corn, husked and kernals removed
12-6 in flour tortillas
2 cups Monterrey Jack cheese, shredded
1 cup sharp white cheddar cheese, shredded
1 sweet yellow onion, thinly sliced
2 tbsp thyme
salt and pepper
olive oil
20 large shrimp, shelled and deveined
jalapeno pesto, recipe below
1.  Heat grill to medium heat.  Season shrimp with salt and pepper and place on skewers.  Brush each side of shrimp with olive oil.  Grill for about 2-3 minutes on each side or just until pink and a little charred.
2.  Grease a flat sheet pan (preferably one with no sides) with olive oil.  Arrange 4 tortillas on the pan, rubbing around on the oil a little.  Put a little corn, onions, cheeses, and 3 shrimp on each.  Top each with another tortilla.  Add more corn, onions, cheeses, and 2 more shrimp.  Finally top with third tortilla. Brush top tortilla with olive oil.
3.  Carefully slide tortillas off of pan onto grill (medium heat).  Cook for about 2 minutes on each side, carefully turning as in the above pictures.  Remove from heat and cut into quarters.  Serve with jalapeno pesto.
Jalapeno Pesto:
2 jalapenos, roasted, peeled, and seeded
1 cup fresh cilantro
1 clove, garlic
2 tbsp pine nuts or pecans*
1/4 cup olive oil
salt and pepper
Combine first four ingredients in a food processor, adding the oil with the motor running.  Season with salt and pepper.  This can be made ahead of time and is so worth the extra step!
*I'm severely allergic to peanuts, so I have to be careful with other nuts as well.  I use pecans because I know I can have them.
NOTE:  We roasted the jalapenos before we got started with the other stuff.  Just rotate them over medium-high heat on the grill until charred.  Remove and place directly in a ziploc bag to steam for about 10 minutes.  Remove from bag and peel charred skin.  Slice pepper open and cut out seeds.