Grand Hyatt Baha Mar Bahamas Trip – All about our wonderful family Bahamas vacation at this beautiful resort which has so much to offer families!
If you are looking for a family-friendly place to stay in the Bahamas, I'm here to tell you all about our trip to the beautiful Baha Mar! Plus, I'll give you some tips and tricks, what we liked, didn't like, and our overall impression of the resort. Be sure to watch the video below to get a good look at the resort too!
The Baha Mar has 3 hotels on the property, with the Grand Hyatt being the center of all the resort action. In addition to the Grand Hyatt, there is also the Rosewood and the SLS Hotel.
Let's take a look at the resort.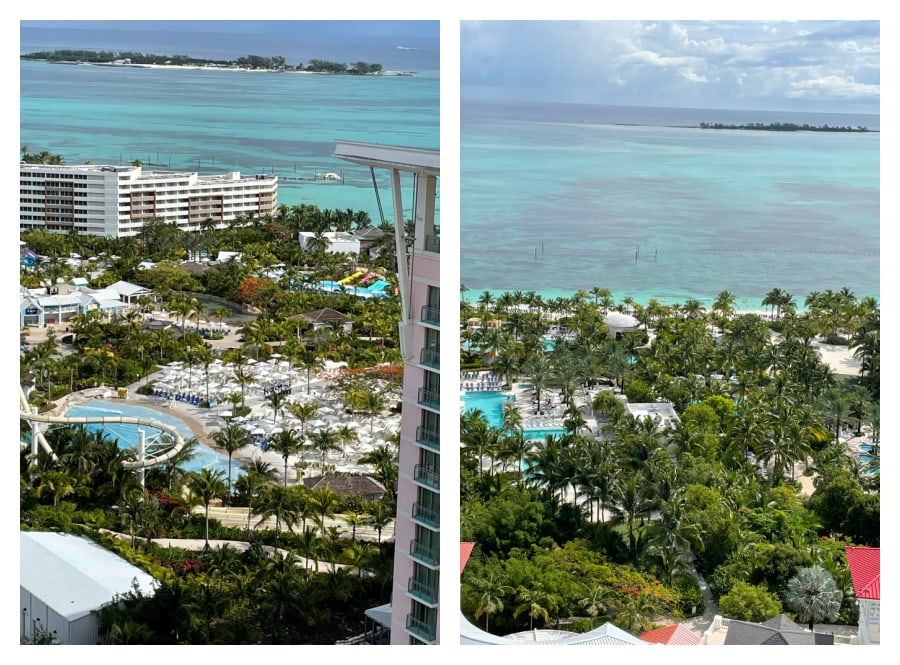 This was our view!! We had a beautiful view of both the waterpark (on the left) and the rest of the resort (on the right). Our room was a 3 Bedroom Residence, explained more below and included in the video. We did not however have chairs on our balcony, which we were a little bummed about, but we had 4 beautiful balconies to see this awesome site.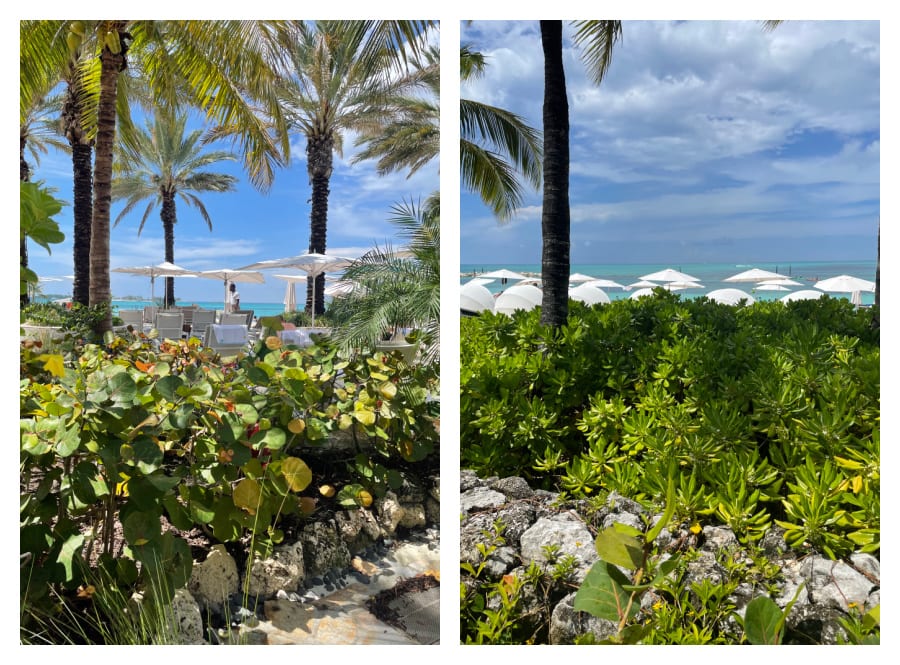 There were beautiful, lush pathways through the resort pools to the beach. The beach itself had plenty of chairs and umbrellas. There were also restaurants and food trucks along the beach and pool pathways.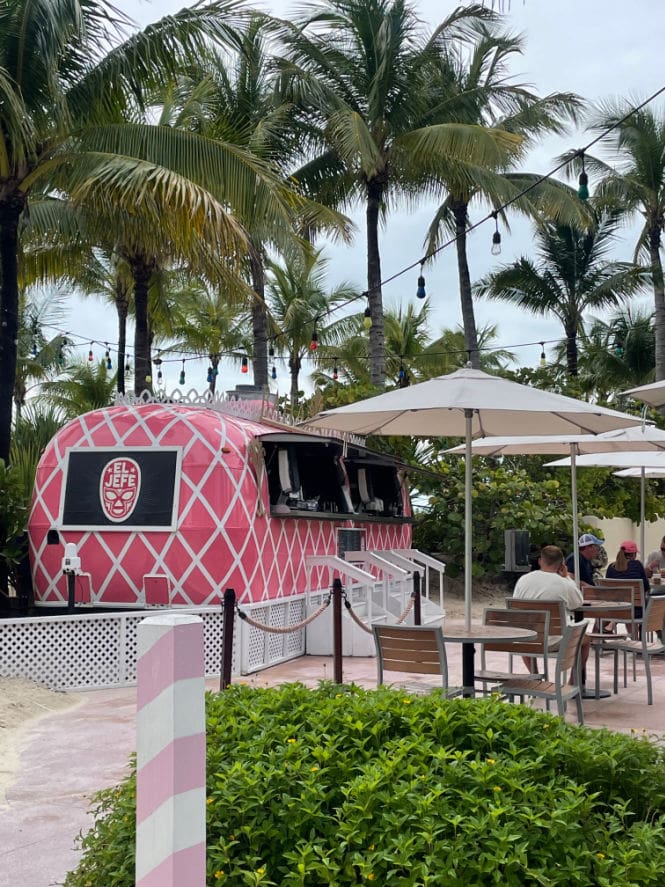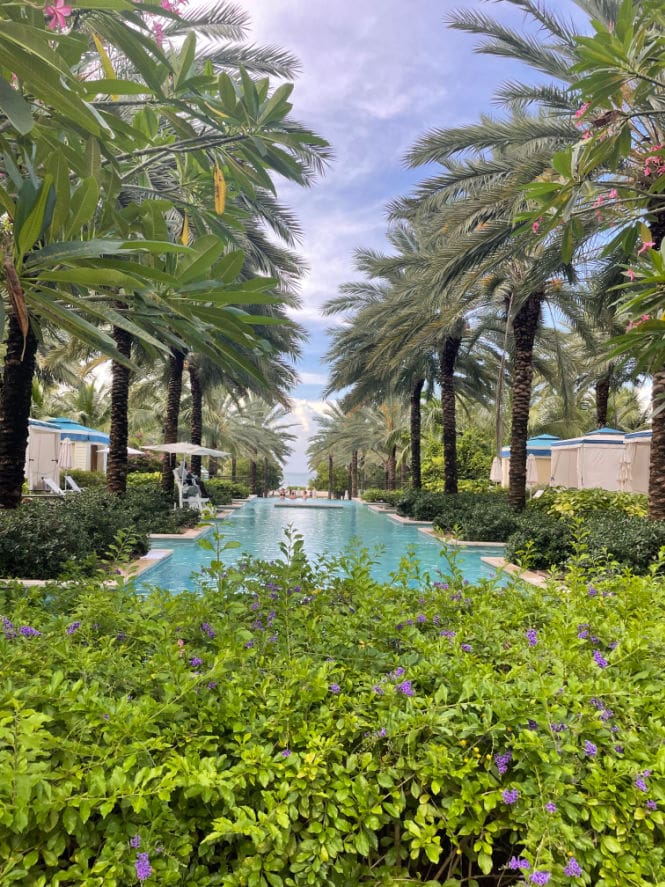 There is a beautiful casino area on the first floor of the Grand Hyatt. Several restaurants surround this area.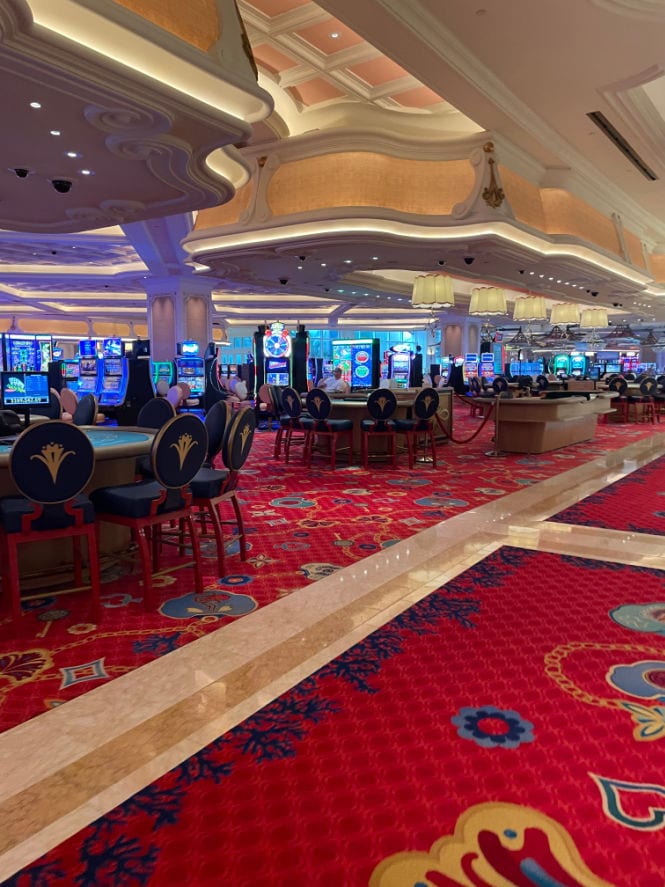 Let's talk about the pools at Baha Mar.
The property has multiple pools and an AWESOME waterpark right on property that is included with your stay.
The pools range from super quiet and adult-friendly to more family kid-oriented ones.
We spent the majority of our pool time at Dean's Blue Hole, which has a huge cave feature where kids and adults can dive off into a blue hole as well as go into the cave to swim next to the aquarium of sharks and other sea creatures! It was very cool.
We also loved the Fortune pool, which featured a nice swim up bar area and plenty of space for the kids to swim.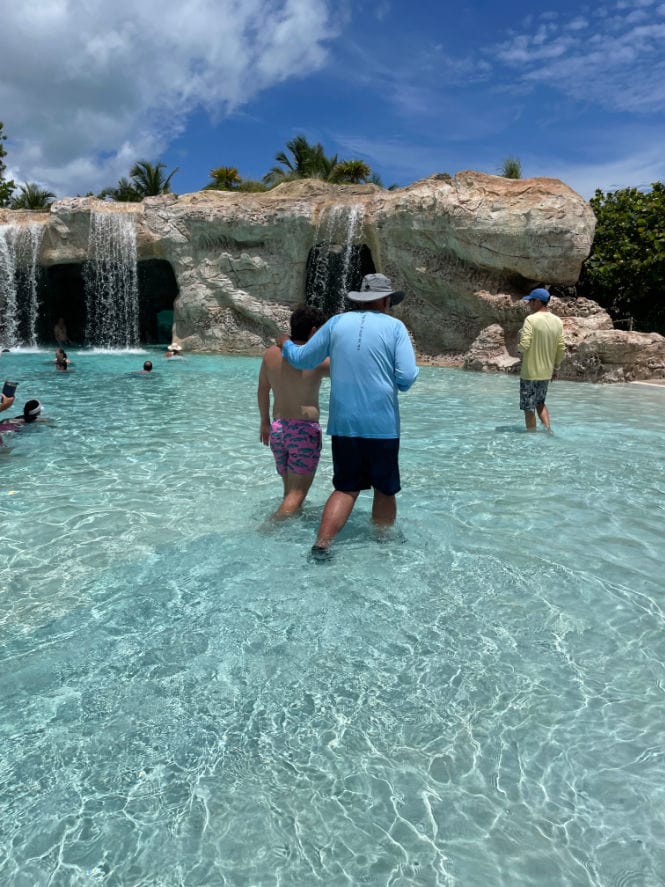 This is the awesome Dean's Blue Hole. There is a cave to swim in where you can see all the sea life including sharks in the aquarium. My kids also loved diving from the cliff!!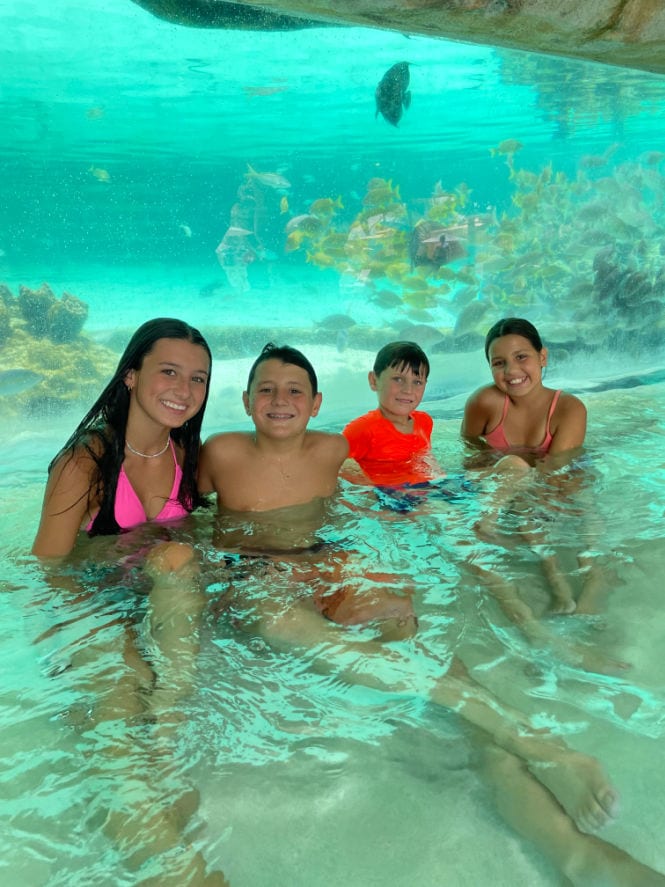 How is the beach at the Baha Mar?
When it comes to beaches, I'm kind of a beach snob. I like my water clear and beautiful, my sand clean and white, and plenty of chairs and umbrellas.
The resort beach was PERFECT! They had kayaks, paddle boards, lounge mats and trampolines all provided by the resort. My kids loved this!
There is also a beautiful pier where you can see so much sea life.
You can get drink service at the beach as well.
No need to bring your own towels. They have towel huts by the beaches, pools, and waterpark.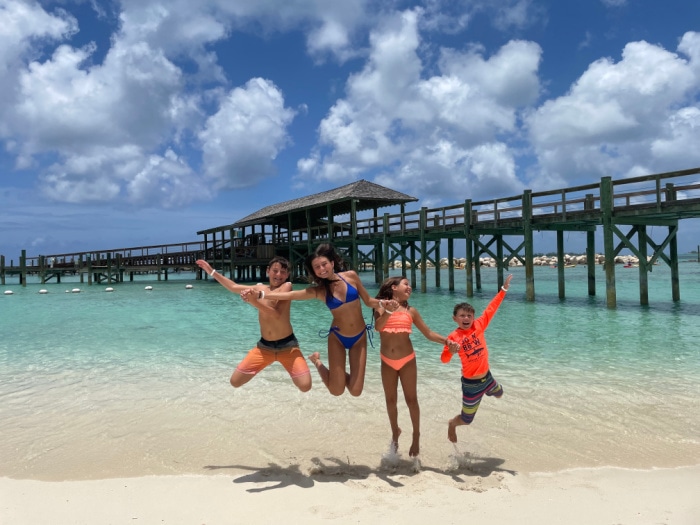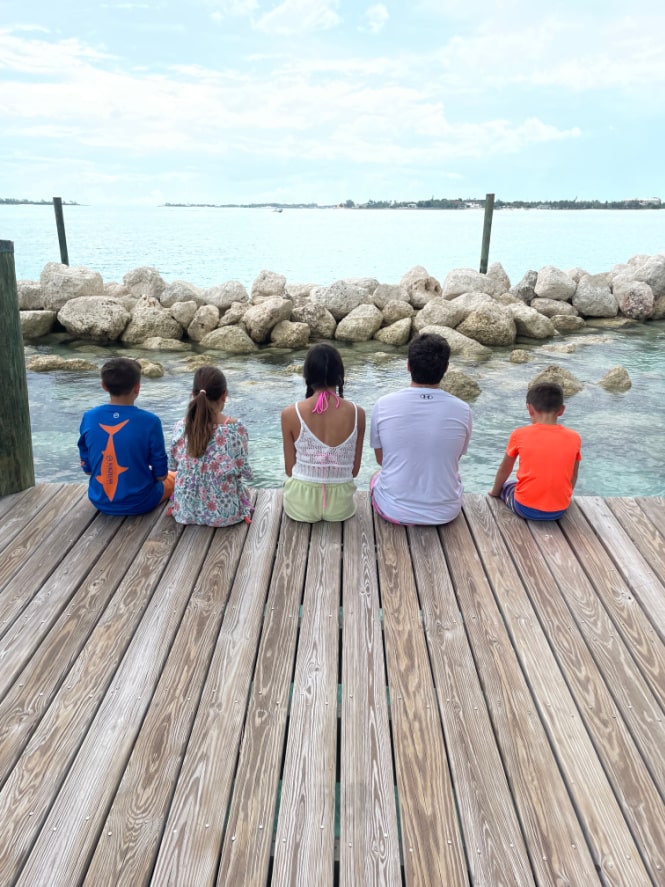 How far is the waterpark and how are the rides?
Let me just say, I anticipated the waterpark being a journey across the resort, but it wasn't far at all! It is literally right off the beach. I did not have a problem with my older kids going right there to the waterpark while I enjoyed beach time. It was the best!!
I loved the waterpark as much as my kids. Cyclone Rush was our favorite time of the whole trip. It's a 5 person tube slide. It's better than any thrill ride I've ever ridden!!
There are also places to eat like Umami Burger in the waterpark.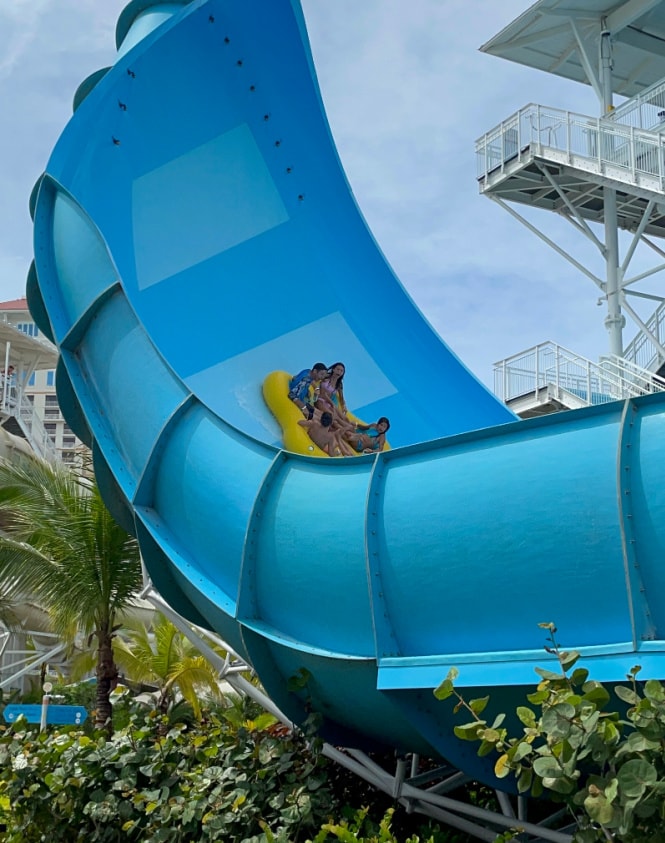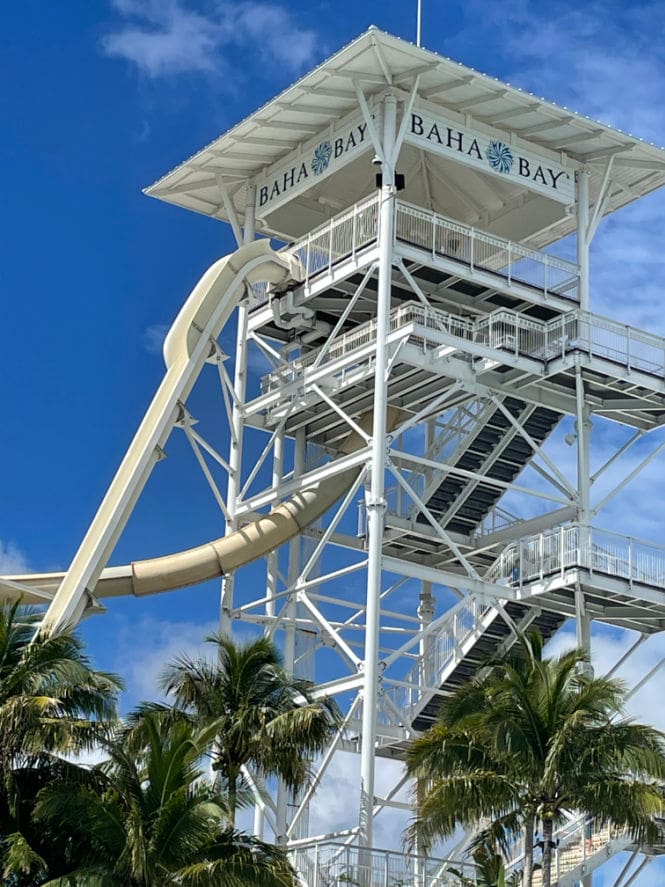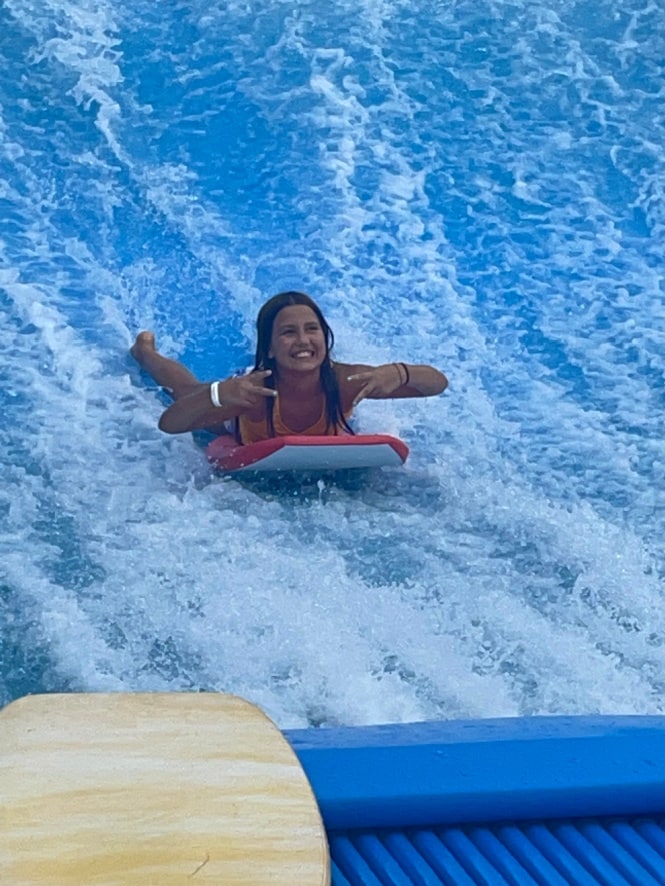 What kind of room did we have?
We have 6 people in our family, so we got a Three Bedroom Residence. I know that sounds excessive and fancy, but believe it or not, this was a cheaper and more convenient option than adjoining rooms.
The boys shared a room and had a bathroom, and so did the girls. It was amazing. We also had a FULL kitchen, washer and dryer with detergent.
Since we wanted to cut down on meal expenses, we opted to order some groceries from Instagopher. I warn you…Bahamas groceries are expensive. I made sure we had drinks, cereal, milk, bread, and eggs. They will deliver these to your hotel room, which makes it so nice!
Other important things to know about a Baha Mar stay:
You will be given a band, which will unlock your room, provide access to the waterpark, and be used to charge all your drinks, food, and purchases throughout your stay. You only need cash for tips while you are out of your room.
The resort has a nice casino area and a Kid's Club. We did not use the Kid's Club, but I can see this being great if you have little ones.
One of my favorite things about the resort is that we were able to have our own coolers and drinks (yeti cups too) everywhere we went! This saved us a great deal of money.
My drink of choice was Deep Eddy's Lemon Vodka with Sprite Zero! Totally perfect beach and pool drink!
There is a 10% tax and and a 15% service charge on EVERYTHING!! Just be aware that adds up.
Our travel agency (Mix and Match Travel Agency) helped us book airport transfers through Majestic Tours. The resort is only 15 minutes from the airport!
Biggest advice before you go:
Make sure you book dining reservations for dinner!!! We waited until the week before we went, and we really should have done it about a month or so before we went.
If you end up like us without reservations a few nights, you can order your food to go at different restaurants. We also ended up eating a late lunch/very early dinner at Marcus' restaurant on the terrace on the beach one day. This was great!!! Then you can go for gelato at the Pizza Lab or Sugar Factory at night!!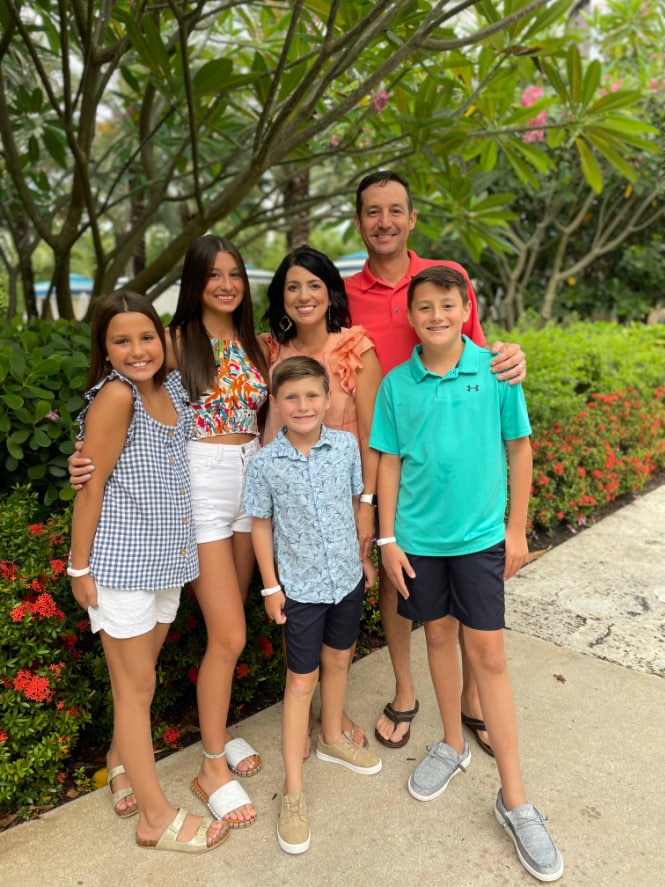 Speaking of dining, where did we eat?
Night 1: Pizza Lab – This was excellent!!
Night 2: Sugar Factory – Kids loved their rainbow burgers. My oldest got Fried Chicken and Waffles and cleaned his plate!
Night 3: Sugar Factory – Again- I loved the Alfredo! (We ate here again because we struggled to find reservations.
Night 4: Late Lunch at Marcus' on the beach.
Night 5: Pizza Lab – This repeat was intentional! We wanted this one again!
Other great ones to try: Fi'lia (I struggled and tried to get a reservation here but I waited too late). Other family members with us enjoyed The Swimming Pig.
We also ate at the El Jefe Food Truck. It was pretty good.
Try a Strawberry Margarita in a PINEAPPLE at Daq's on the beach! The best ever!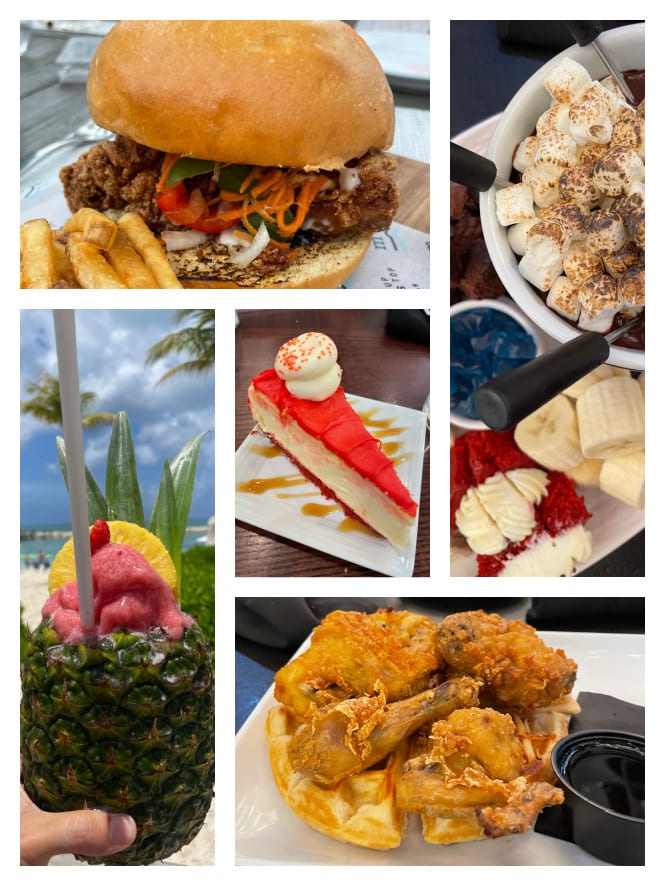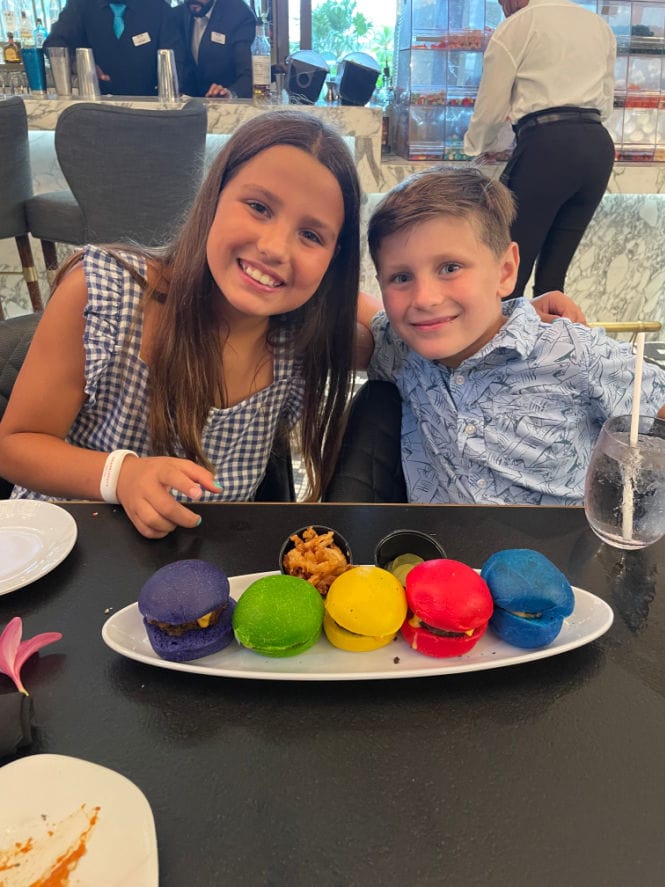 Overall, we absolutely loved our stay and would highly recommend it to anyone wanting to go to a beautiful island for a vacation! Be sure to checkout the video below!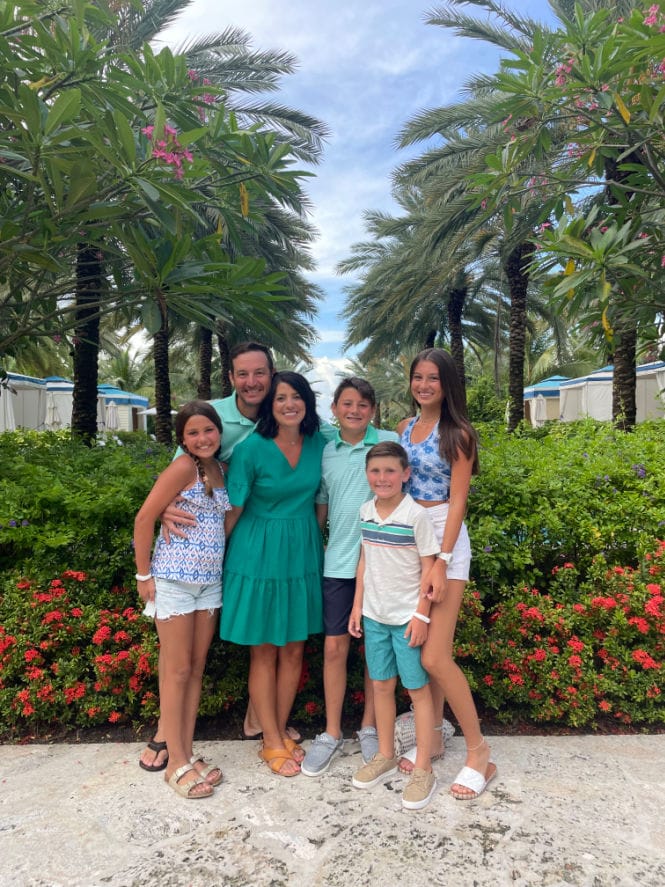 Please let us know if you have any specific questions about our trip. We used Mix and Match Travel Agency to help us book our trip. They were great!!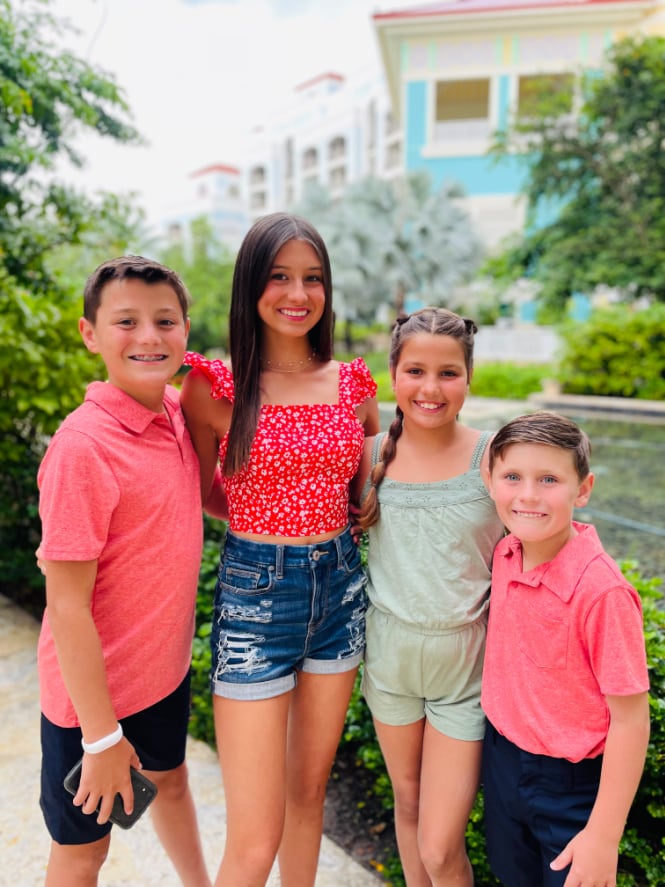 Other Travel Posts you might be interested in:
Wyndham Grand Orlando Resort Bonnet Creek Family Disney Trip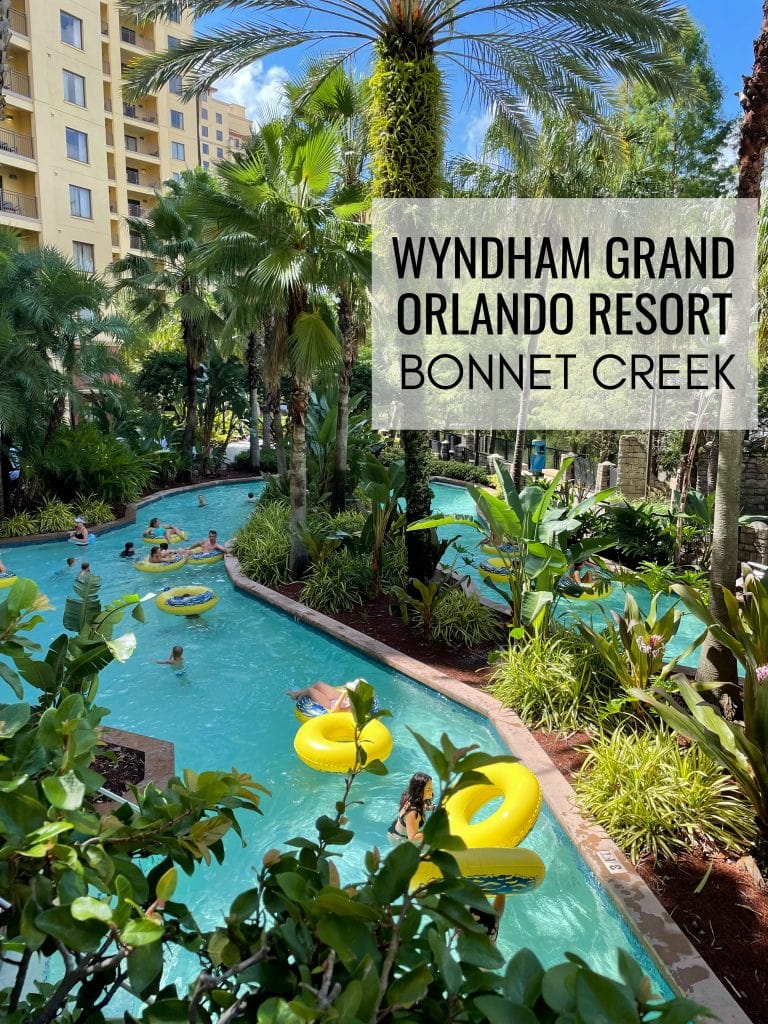 You can find more TRAVEL posts HERE.
You can find MAIN DISH RECIPES HERE.
You can find ALL RECIPES HERE.
For more ideas, follow me on FACEBOOK, PINTEREST, INSTAGRAM, AND TWITTER.
Get FREE recipes delivered to you by email: SIGN UP HERE!