Fudge Pecan Pie – It's a chocolate lover's delight with a delicious fudge filling.  It makes a perfect make ahead dessert!

If you love fudge, then you will absolutely adore this dessert.
It would be perfect for your holiday menu this year!
It is not the kind of pie you need to bake at the last minute either.  You need to make it the day before and give it time to chill…which to me is perfect for the holidays.  This recipe comes from Sandra Lee Semi-Homemade magazine from 2010.  Her recipes are always quick and easy!
It calls for a refrigerated pie crust, which is what I used and was perfect.  However, if you are all about making a homemade crust, go right on ahead.  I'm sure it would be awesome too!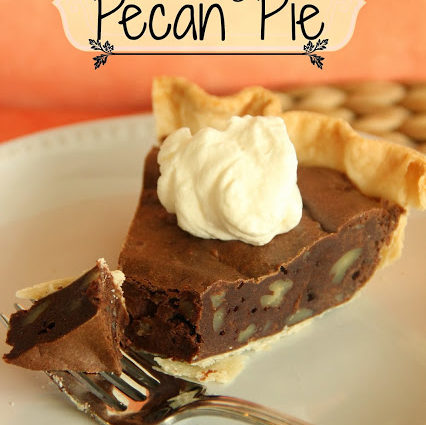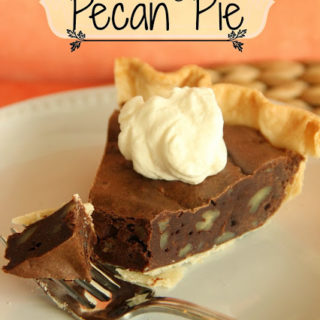 Fudge Pecan Pie
Ingredients
1/2 (15 oz.) packaged refrigerated pie crust
1/2 cup butter, softened
1/4 cup firmly packed brown sugar
3 large eggs
1 12 oz. package of chocolate chips, melted
2 tsp instant expresso powder
1 tsp vanilla
1/2 cup flour
3/4 cup chopped pecans
Garnish:  whipped cream (I made my own with 1 cup heavy whipping cream and 1/3 cup powdered sugar).
Instructions
Preheat oven to 375.
Fit pie crust into 9 inch pie plate. Crimp edges.
Melt chocolate in a microwave-safe bowl in 30 second intervals, stirring in between each.
In a large bowl, cream butter using a mixer.
Add brown sugar and beat well.
Add eggs one at a time, beating just until blended after each one.
Add melted chocolate, coffee, and vanilla, and beat until combined.
Stir in flour and pecans.
Pour into prepared pie crust. Bake for 25 minutes. Let stand to cool for 2 hours. Cover and chill for 8 hours. Serve with whipped cream.
Recommended Products
As an Amazon Associate and member of other affiliate programs, I earn from qualifying purchases. This helps us keep our blog running efficiently and allows us to create more recipes for you.
Looking for other chocolate pie ideas?