BLT Deviled Eggs – These deviled eggs have all the flavor of a bacon, lettuce, and tomato sandwich!  They make a great appetizer!
I LOVE deviled eggs!  They are always a huge hit in my family and pretty much the first thing to go at any of our gatherings.  When I saw these eggs, I knew I had to try them!  These are a super simple twist on the classic deviled egg by adding bacon, tomatoes, and parsley.  They are super yummy and really do taste like a BLT!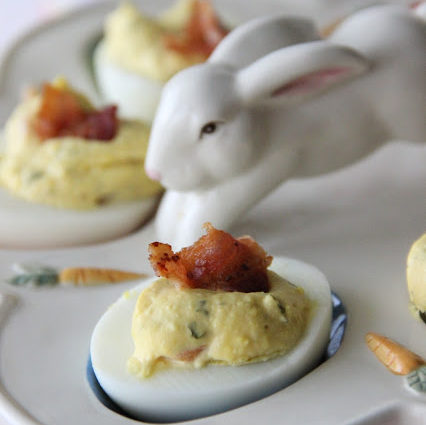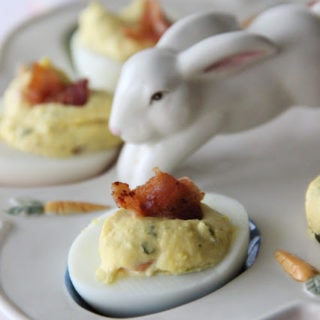 BLT Deviled Eggs
Ingredients
6 eggs, boiled and peeled (see below for how to boil the perfect egg)
1/4 cup of mayo
6 slices of bacon, cooked and crumbed
1 tomato, chopped finely
1 tbsp dried parsley
salt and pepper to taste
Instructions
Cut eggs in half and carefully remove the yolks and place them in a bowl.
Mash yolks and add mayo, bacon (reserve some for garnish), tomatoes, and parsley.
Add salt and pepper and stir well. Fill the egg whites with the yolk mixture and top with the bacon. Chill until ready to serve.
Perfect Boiled Egg:
Bring eggs to a boil. Cover with lid. Turn off heat and allow eggs to sit in water for 10 minutes. Drain and rinse under cool water before peeling.
You may also like:
Southwestern Deviled Eggs