Taco Spaghetti Bake – Change up your usual spaghetti night by making it with wonderful Mexican flavors and melty cheese!

Do your kids love spaghetti?  Mine do!  Well, I ran across a Tex-Mex version of spaghetti in Cooking with Paula Deen magazine.  It was one of those ideas, for whatever reason, that had not occurred to me…to make a Mexican version of a simple, basic Italian classic.
I changed up a few things from the original recipe, and I think it came out great.  It does make enough for a 9×13 size casserole dish.  We normally cannot eat all of that, so I just freeze the leftovers for a busy night.  You can also split it into two smaller aluminum foil casserole pans and freeze it before baking.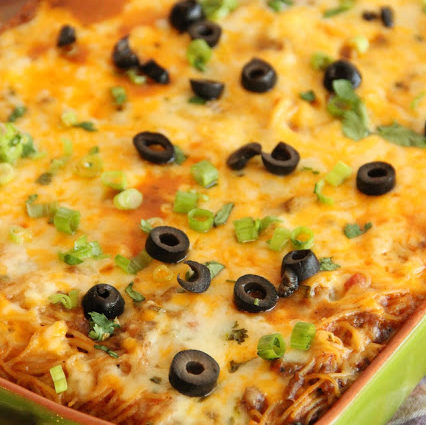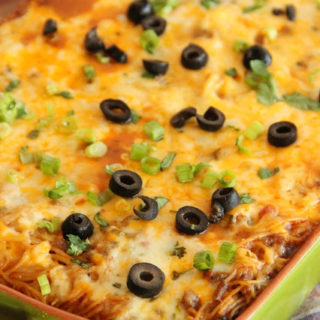 Taco Spaghetti Bake
Ingredients
1 1/2 lbs. ground beef
1 small onion, chopped
6 tbsp butter
1/2 cup flour
1 1/2 cups milk
1 15 oz can tomato sauce
1 can diced tomatoes (I used fire roasted)
1 16 oz. block Colby Jack cheese, shredded
1 8 oz. block of Pepperjack cheese, shredded
2 tbsp cilantro, chopped
1 tbsp ground cumin
2 tsp chili powder
1/2 tsp-1 tsp salt
1 16 oz. package of angel hair pasta, cooked to al dente
Toppings: green onions, sliced black olives, cilantro
Instructions
Preheat oven to 350. Spray casserole dish with nonstick cooking spray.
In a large pot, brown ground beef and onion. Remove all of beef mixture to large bowl when cooked.
Add butter to same pot. Melt butter over medium heat. Whisk in flour constantly for 2 minutes. Reduce heat to medium low. Gradually add in milk and tomato sauce. Continue to slowly whisk to combine with flour mixture.
Add in diced tomatoes. Cook, stirring occasionally, for 10 minutes or until mixture has thickened.
Add beef mixture back to pot, shredded cheeses (reserving 1/2 cup of each for topping), cilantro, cumin, chili powder, and 1/2 tsp salt. Taste and add more salt, if necessary.
Stir in cooked pasta, mixing well to combine.
Spoon into casserole dish and top with remaining cheese. Cover with foil and bake for 30 minutes. Remove from oven and top with sliced olives and green onions and additional cilantro if desired.
Let cool for 10 minutes before serving.
Recommended Products
As an Amazon Associate and member of other affiliate programs, I earn from qualifying purchases. This helps us keep our blog running efficiently and allows us to create more recipes for you.
And if you are looking for just the classic Italian version of this, click below.