Skinny Stuffed Peppers – A delicious low-calorie, low-carb, and high protein recipe filled with ground turkey.
I'm back with another skinny recipe for you guys! These Skinny Stuffed Peppers did not disappoint. I made them on a Sunday and divided them up for my week. I always feel like I'm winning in life when I have healthy grab and go meals ready for lunch or dinner!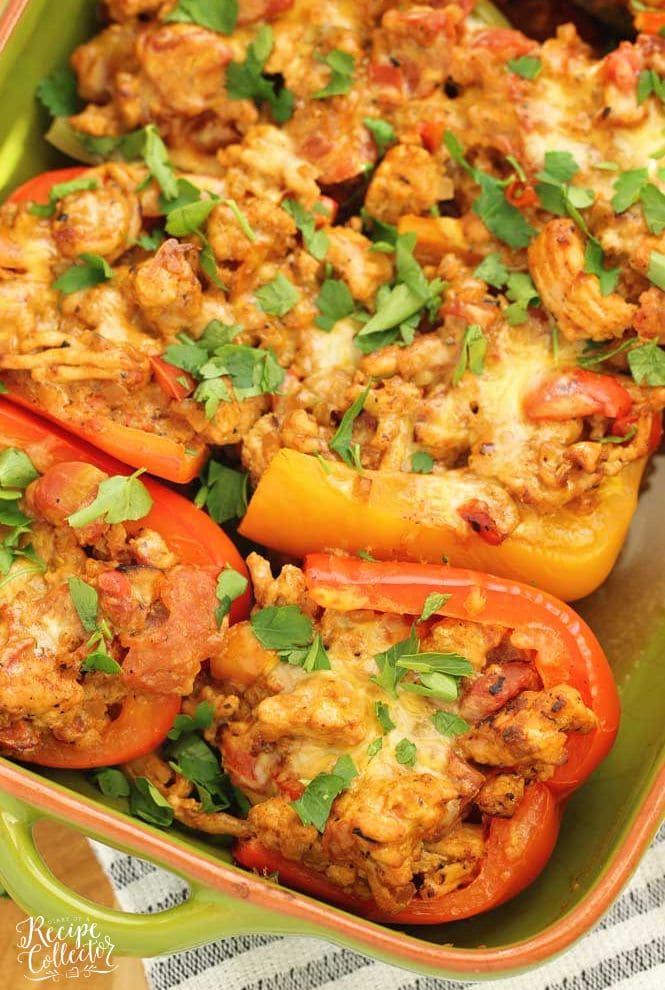 These Skinny Stuffed Peppers are great for any lean and green diet coming in at under 400 calories and full of protein and low-carb too!! Here's a bonus! They freeze well too! So you can make a batch, and freeze some to have a healthy meal for a later date!!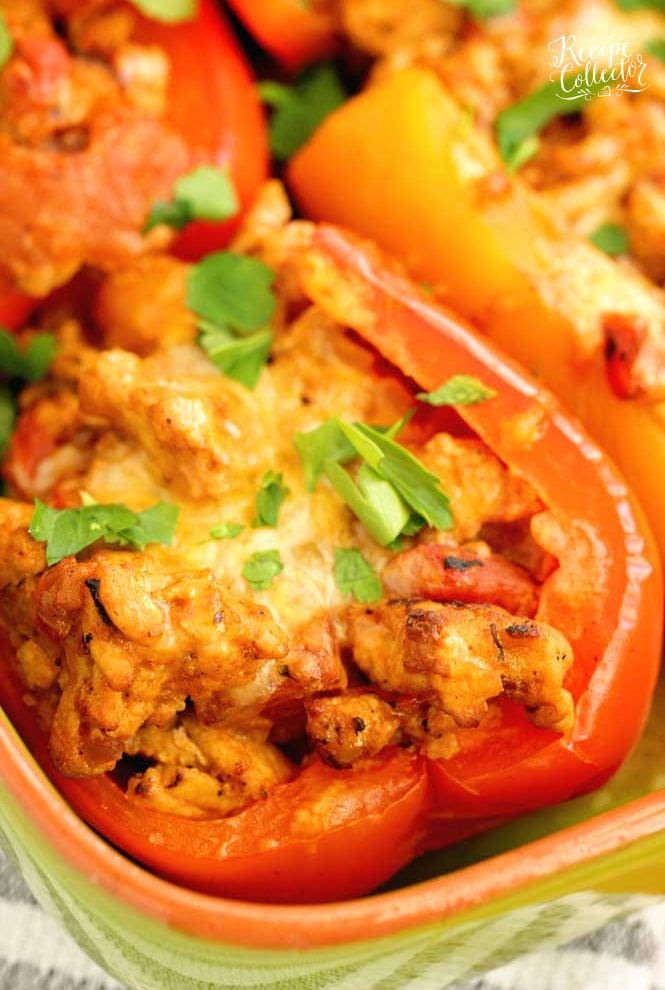 What ingredients do you need to make these Skinny Stuffed Peppers?
Lean ground turkey
I like to use ground turkey that is 99% fat-free.
Spices:
creole seasoning, onion powder
Bell Peppers
I like to buy the red, orange, and yellow peppers because I enjoy the taste of these more than the green ones. However, I do use green peppers in this recipe too because they are a little cheaper.
Riced Cauliflower
I buy this frozen. It's such a great low-carb hack! For this recipe, I used a garlic-herb flavor, but you can use a plain one.
Sour Cream
I used a full fat sour cream. This enhances the creaminess of your meat mixture.
Shredded Parmesan
You can also use a shredded Italian cheese blend.
Shredded Reduced Fat Cheese
I used a blend of Monterrey Jack, cheddar, and mozzarella cheese.
Fresh Chopped Parsley
Of course, this is completely optional, but it does add more flavor and freshness to your meal.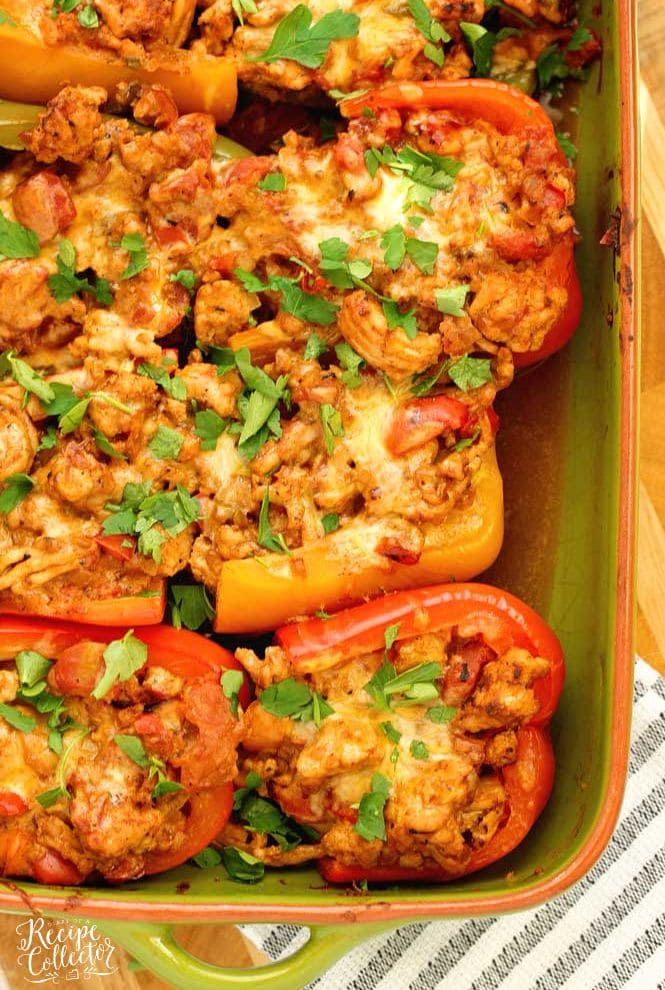 Can you use ground chicken or lean ground beef?
You can certainly swap out your protein. I love ground chicken, but I also use an extra lean ground beef in some recipes.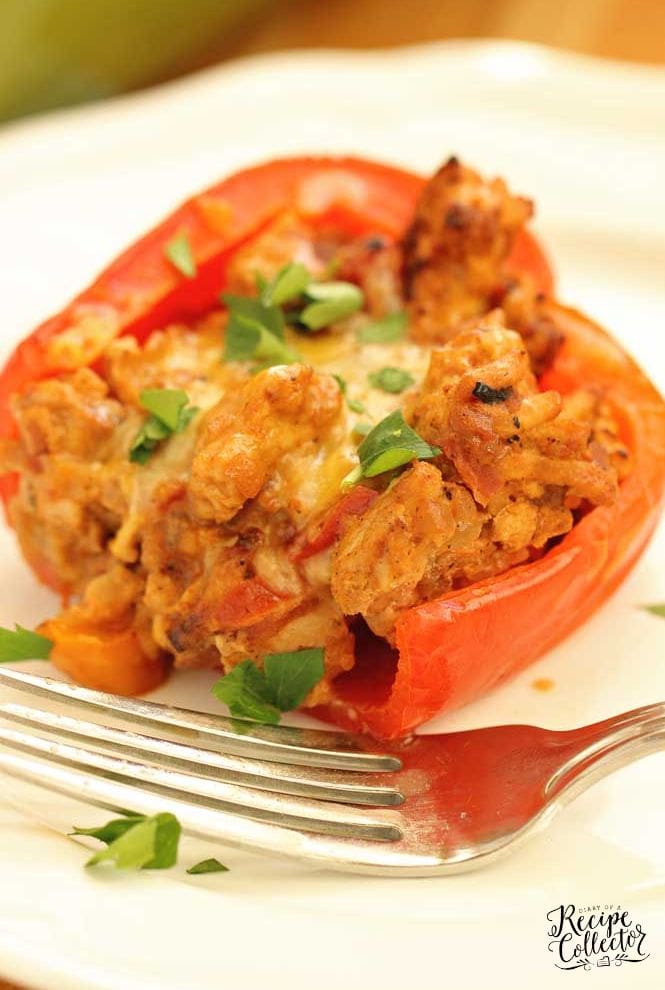 Can this recipe be made ahead of time for meal prep for the week?
Yes!! I make this over the weekend and divide it up into containers to eat during the week. It makes 4 servings, which I'll have for lunch or dinner. You can freeze any servings you don't eat, and you'll have a healthy meal for later!!
Connect with Diary of a Recipe Collector! Follow us on social media, so you never miss a recipe!
Email Subscription | Facebook | Instagram | Pinterest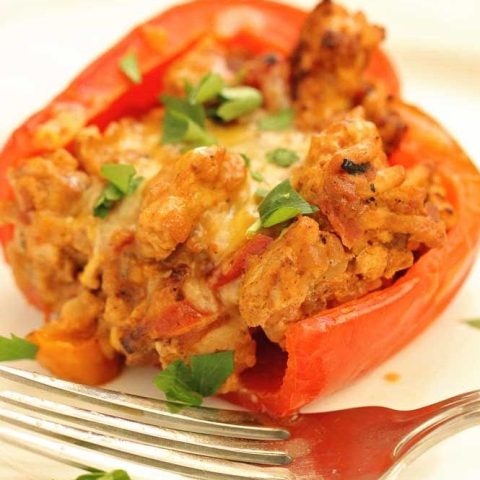 Skinny Stuffed Peppers
Skinny Stuffed Peppers - A delicious low-calorie, low-carb, and high protein recipe filled with ground turkey. 
Ingredients
1 medium green bell pepper
1 medium red bell pepper
1 medium orange bell pepper
1 medium yellow bell pepper
1 lb. lean ground turkey (99% lean)
1 tsp creole seasoning
1/2 tsp onion powder
1 1/2 cups riced cauliflower (I used a roasted garlic flavor)
14.5 oz can Italian Style diced tomatoes
1/4 cup shredded parmesan cheese
1/3 cup sour cream
1/2 cup shredded reduced fat cheese
1/2 cup water
2 tbsp chopped fresh parsley for topping
Instructions
Remove tops of bell peppers and then remove seeds. Cut each pepper in half length-wise. Place them in a 13 x 9 casserole dish. Dice the remaining tops of peppers, discarding stems.
Brown turkey over medium-high heat along with diced peppers. Season with creole seasoning and onion powder.
Once turkey is browned and diced peppers are soft, add in riced cauliflower and diced tomatoes and stir to combine. Allow to cook for about 5 minutes.
Stir in parmesan cheese and sour cream and remove from heat.
Divide meat mixture among peppers in casserole dish. Top each with shredded reduced-fat cheese.
Fill the bottom of casserole dish with about 3/4 cup of water to help peppers steam. Cover dish with foil and bake at 350 degrees for 30 minutes making sure peppers are softened. Remove foil and bake for another 5 to 10 minutes. Remove from oven and top with fresh parsley.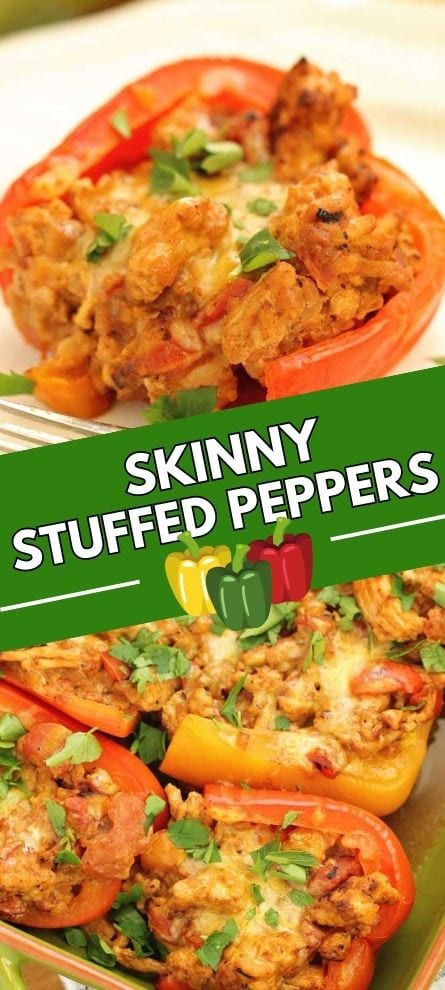 You can find more MAIN DISH RECIPES HERE.
You can find ALL RECIPES HERE.
For more ideas, follow me on FACEBOOK, PINTEREST, INSTAGRAM, AND TWITTER.
Get FREE recipes delivered to you by email: SIGN UP HERE!