The first time I ever tried Shrimp and Grits was at a faculty breakfast at the school in which I taught a few years ago.  I had never had a desire to try them or make them until that morning.  They were so yummy.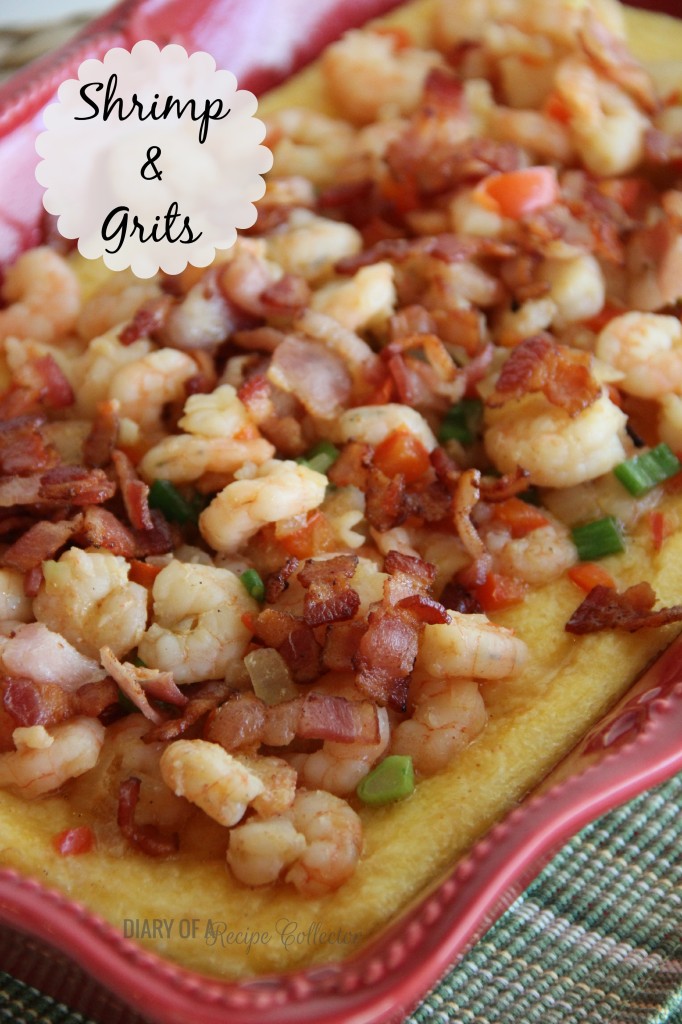 There are all sorts of different versions.  Here is one I found in one of Paula Deen's magazines.  I changed it up slightly and used her Baked Grits recipe from her first cookbook.  I had no idea there were so many ways to make grits other than the kind you eat for breakfast.  I was pleasantly surprised with a dinner version especially since it involved shrimp.
Recipe:
For the shrimp topping:
6 slices of bacon, chopped
1/2 a red bell pepper, chopped
1 small onion, chopped
2 cloves garlic, chopped
Creole seasoning, to taste
1/2 cup white wine or chicken broth
1 lb. medium shrimp, peeled and deveined
1 tbsp fresh lemon juice
1/4 cup chopped green onions
For the baked grits:
4 cups of water
1 1/2 tsp. salt
1 cup uncooked grits
2 eggs, beaten
1 stick butter, cut into tablespoons
1 1/2 cups of shredded Colby Jack cheese
2 cloves garlic, minced
dash of pepper
Preheat oven to 350 degrees.  Begin by boiling water with salt.  When water reaches a boil, add grits and stir continuously for about a minute.  Cover and cook, stirring occasionally until grits have thickened.  Next you'll need to temper eggs which means bringing the eggs to a higher temperature so they don't scramble when you add them to the grits.  Do this by adding a tablespoon of grits at a time to the beaten eggs and stirring.  When egg mixture feels warm, add it to the pot of grits.   Next add butter, cheese, garlic and pepper.  Stir until combined.  Pour into casserole dish.  Bake for 45 minutes.
Shortly before grits are finished baking, cook bacon in a large skillet.  Remove bacon leaving drippings.  Add red bell peppers, onion, and garlic.  Season with creole seasoning.  Cook for 2 minutes.  Add wine or chicken broth and cook for 2 more minutes.  Add shrimp and season with a little more creole seasoning.  Cook shrimp for  2 minutes or until they are pink.  Turn off heat and add lemon juice and green onions.  Pour shrimp mixture over baked grits and serve.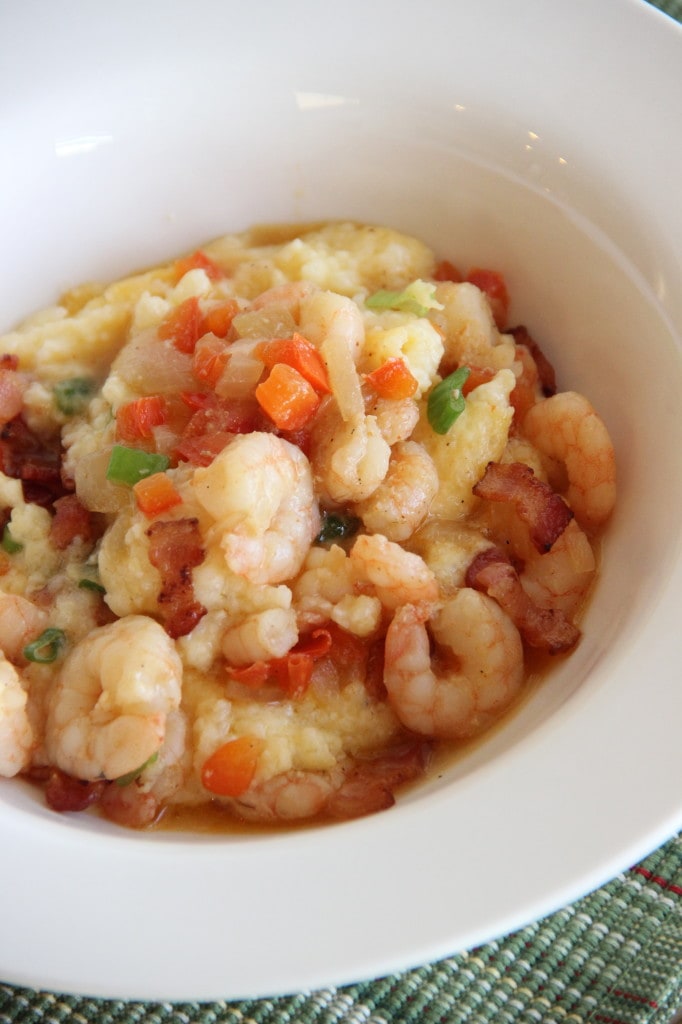 Thanks for stopping by and enjoy!
I'm linking up with:
Best of the Weekend
Show Stopper Saturday
SNF Link Party 28
Time to Sparkle 56