I've been wanting to share this little cake for a while now.  It is one of the easiest birthday cakes I've made.  There's nothing like taking a plain store-bought cake and decorating it.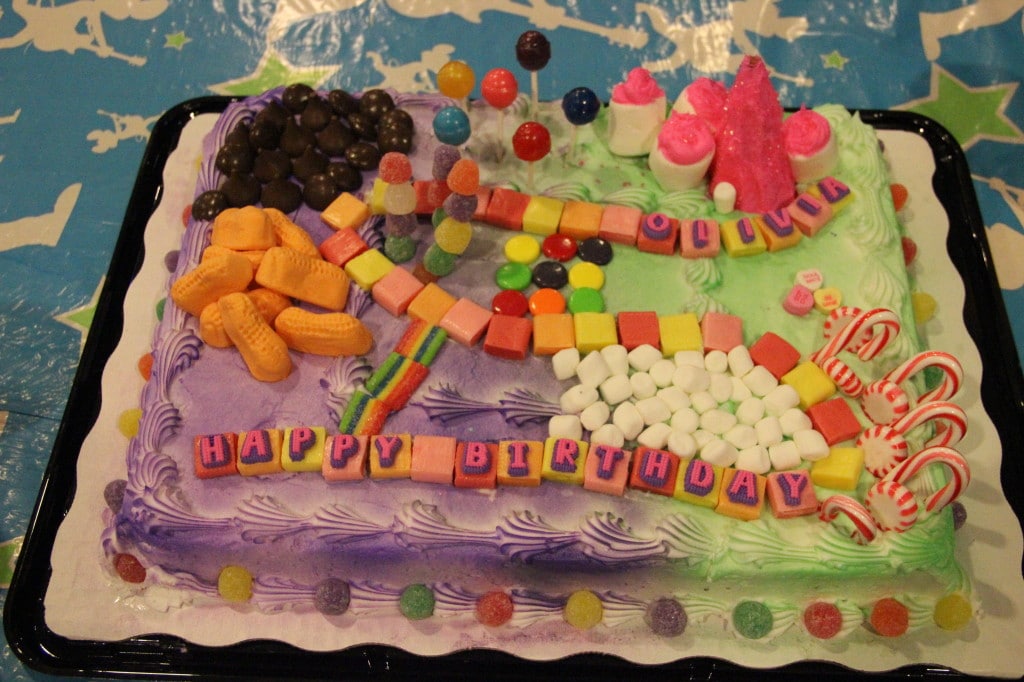 My oldest daughter LOVES, ADORES, OBSESSES over candy.  It drives me crazy, honestly.  However, on her birthday, I knew there is nothing she would like more than a cake filled with candy.
I've taken cake-decorating courses and made several homemade birthday cakes.  In fact, that was my intention with this one.  However, my youngest daughter got sick a few days before the party.  So, I basically ran out of time and desire to start making homemade icing.  I did manage to make the cakes, and they are still in the freezer, wrapped up cozily and waiting for icing.
In the end, I was thankful I just went and bought a white already-iced cake at Sam's for 20 bucks.  Their cakes are really good, and I knew I was going to fix it up and make it cute anyway.
So my husband took the kiddos to a local pizza place, and I got to decorating.  Thank goodness for him!!  I get nervous when it comes to decorating cakes, and I need absolute concentration and all the candy thieves out of the house!
I sprayed the cake with Wilton Icing Sprays, unwrapped candies, and got down to decorating.  In the end, it came out so cute!  Once my kids got home, they could not believe their little eyes.  They were so excited with it.  My son has already requested one for his birthday in the summer with boy colors, of course.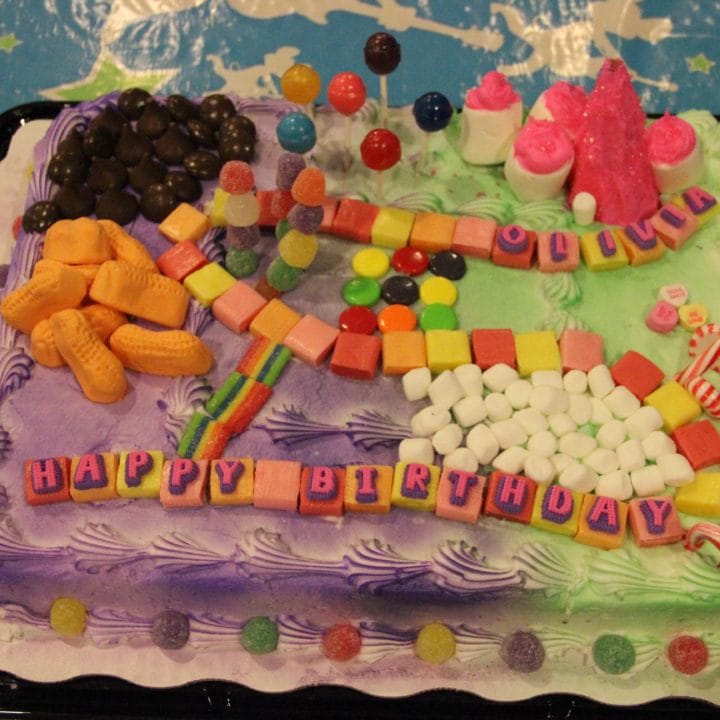 Semi-Homemade Candyland Cake
Ingredients
1 Half sheet cake iced with white icing
2 different color Wilton Icing Sprays (found at craft store)
10 circus peanuts
1 bag starburst (I used 43)
1- 2 bags of gum drops
6 Dum Dum suckers
8 Hershey Kisses
1/4 cup Hershey Drops
4 large marshmallows
1/2 cup mini marshmallows
5 peppermints
5 small candy canes
1 waffle cone
Rainbow sour Airhead
9 sprees
Candy hearts (optional)
Birthday cake letters (found in baking section at Wal-Mart)
Pillsbury Funfetti Hot Pink Vanilla Frosting with Glitter
3 long toothpicks
Instructions
Start by spraying one side of the cake with one of the spray colors. Then spray the other half with the other color. I split the colors diagonally on the top of the cake.
Place gum drops around the bottom of the cake.
Unwrap and place Starburst in a board game path pattern on the top of the cake.
Make the Circus Peanut mountain.
Fill a section with mini marshmallows to resemble a "marshmallow lake."
Decorate with candy canes and peppermints beside the marshmallows.
Make paths with Rainbow Airheads and sprees.
Use toothpicks to make gumdrop trees and press into cake.
Make the chocolate mountain with Hershey Kisses and Drops.
Decorate the waffle cone with Funfetti frosting and glitter and press it down into the cake.
Pipe frosting onto the large marshmallows and sprinkle with glitter.
Place Dum Dums into cake.
Use just a little bit of frosting to "glue" down the letters onto the Starburst candies.
Notes
*Use candies you prefer or what you can find. A lot of ideas came to me on the candy isle at the store.


I'm linking up with:
Show and Share Wednesday #78
Weekend Retreat 65
Best of the Weekend 51
Show Stopper Saturday
Saturday Night Fever