You don't want to miss this awesome new cookbook Real Food Slow Cooker Suppers!  Be sure to enter to win an amazing prize too!!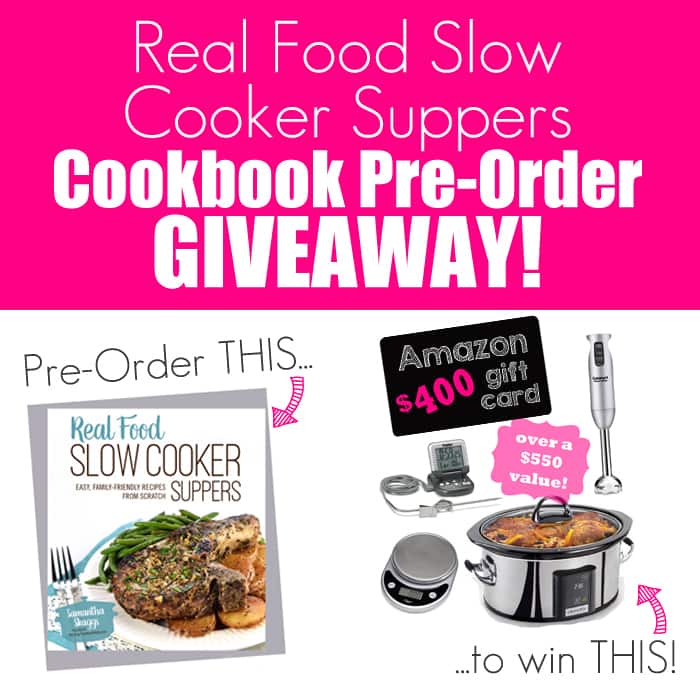 Hello my friends!!  I'm popping by really quickly to share a little treat with y'all!!  I miss you all and my little blog terribly, and I am slowly catching up to this new school year routine.  New recipes are coming soon…I pinky swear promise!
And when my friend Samantha from Five Heart Home told me about this awesome giveaway when you preorder her new cookbook, I jumped at the chance to share it with you guys!  I had the chance to get a little glimpse at some of her recipes and even try a few for her.  This cookbook is FULL of great practical meals PERFECT for our busy life right now!!!  It is right on time for me!
Real Food Slow Cooker Suppers will be released on October 11, 2016, but it's available for pre-order now! The cookbook features:
♥ 80 new DINNER recipes made in the slow cooker, prepped when it's convenient for you and cooked while you go on with your day
♥ recipes utilizing real, fresh ingredients instead of processed or packaged ingredients
♥ a variety of recipes, from classics to comfort foods to soups & stews to sandwiches & tacos to holiday main courses, and
♥ a full-color photo with every recipe!
To thank those of you who have already pre-ordered or are planning to pre-order, we're hosting a big giveaway! It's easy to enter and the prize pack includes a generous Amazon gift card, a fancy new slow cooker, and some additional kitchen accessories that will come in handy when using the cookbook! 🙂


To pre-order Real Food Slow Cooker Suppers, click one of the links below:
or wherever books are sold!
And to enter the giveaway, simply fill out this form and submit!
GOOD LUCK!!!