Pots De Creme is such a fancy sounding dessert, but it is one of the easiest you will ever make!  Today I'm sharing a July 4th version that can easily be made ahead and taken outside in time to enjoy the fireworks.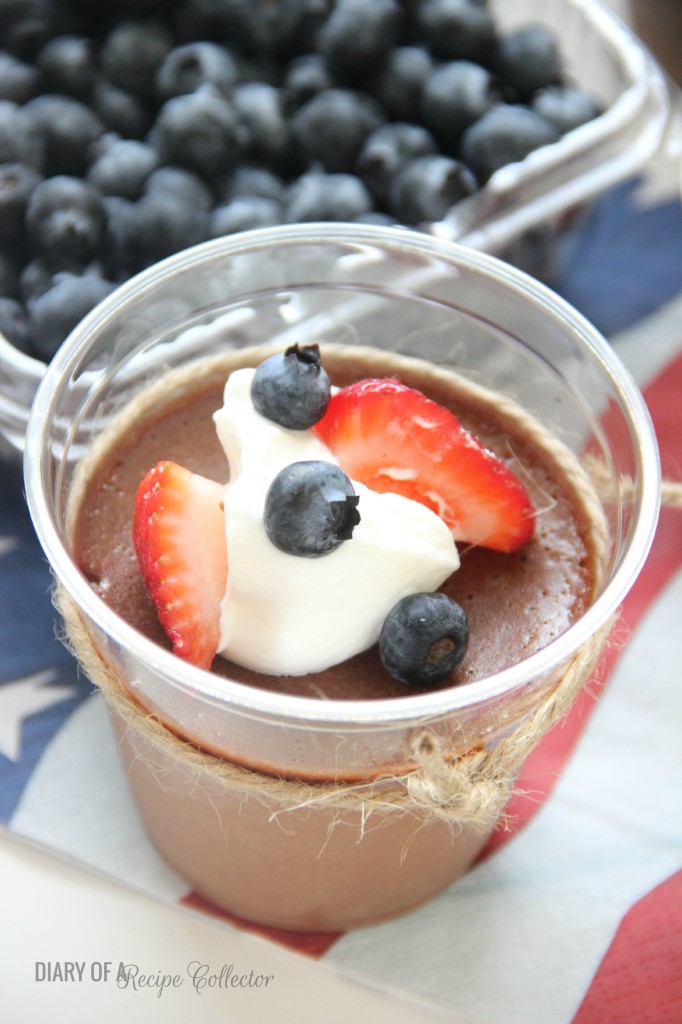 Any chocolate lover will just go crazy over these!  They will be begging you to tell them how to make them.
One recipe filled about 7 – 9 oz clear plastic cups.  If you use smaller cups, you could make more servings.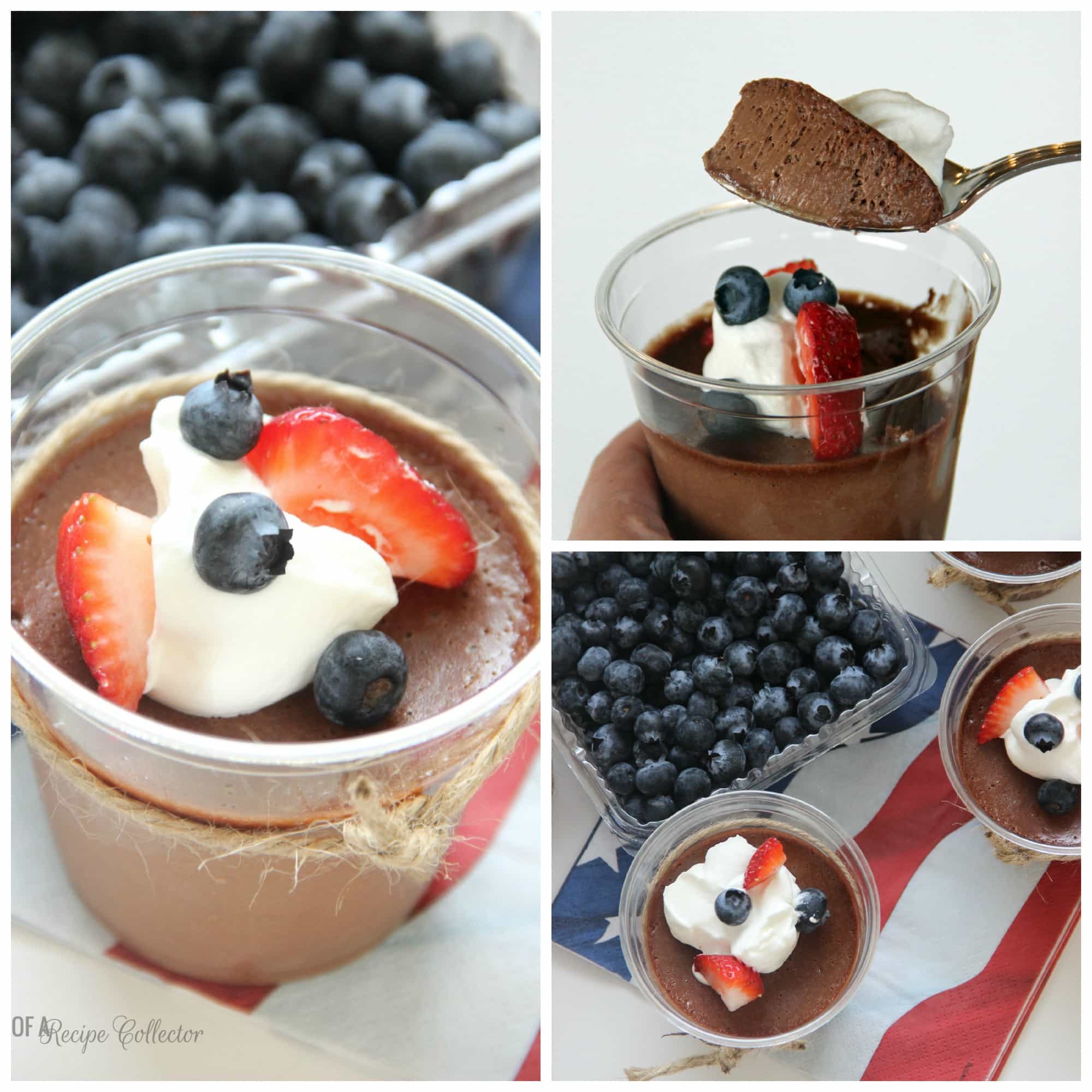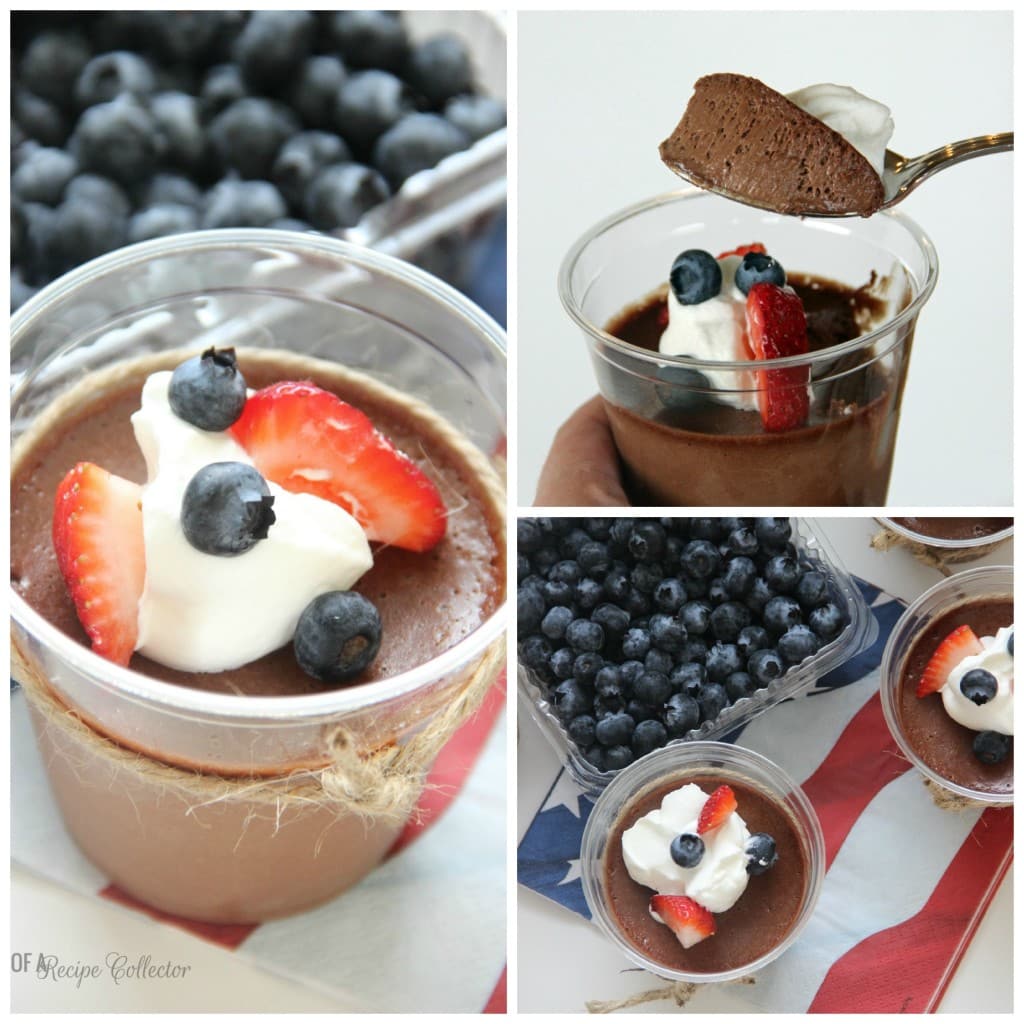 These can be made any time of year, and your sweet tooth will thank you!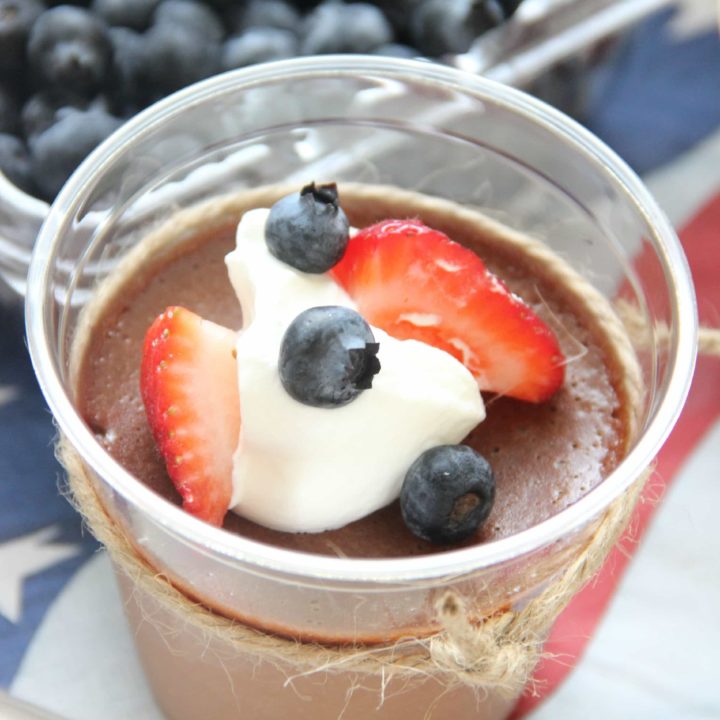 Chocolate Pots De Creme
Ingredients
12 oz semisweet chocolate chips
1 1/2 cups whole milk
2 cups heavy cream, divided
6 large egg yolks
5 tbsp granulated sugar
1/4 tsp salt
1 tbsp powdered sugar
Optional: sliced strawberries and blueberries
Instructions
Pour chocolate chips into a blender.
In a medium saucepan, whisk milk, 1 1/2 cups heavy cream, egg yolks, and sugar over medium heat.
Continue to cook while stirring constantly for 5 or 6 minutes or until it is almost boiling and coats the back of a wooden spoon.
Remove from heat and immediately pour over chocolate in blender. Cover with lid and then cover with dish towel.
Blend until combined and smooth.
Divide chocolate mixture into cups and refrigerate for at least 2 hours.
Make whipped cream by mixing 1/2 cup of cream and powdered sugar in a mixer on high speed until soft peaks form. Place a dollop on top of each chocolate pots de creme cup.
Top with sliced strawberries and blueberries.
Notes
Adapted from Food Network Magazine
Recommended Products
As an Amazon Associate and member of other affiliate programs, I earn from qualifying purchases. This helps us keep our blog running efficiently and allows us to create more recipes for you.


Linking up with:
T ime to Sparkle
Tasty Tuesday
Weekend Retreat
Mandy's Recipe Box
Best of the Weekend
Saturday Night Fever