I just ADORE Ree Drummond, The Pioneer Woman!  I could watch her show and look at her cookbooks for hours (but that doesn't happen with three little ones).  She makes the best stuff!  I've never gotten a cookbook where I wanted to make EVERYTHING in it until I got both of hers last year.  She has quickly reached "Paula" status in my eyes, and that is huge because I really ADORE Paula Deen!  Anyway, I really do plan on making the entire cookbook eventually!
This was a great, easy, quick, fabulous cake I made on Friday.  I love the fact that it is made in a black iron skillet too!  It wasn't fussy either.  Everything just mixes up in one bowl.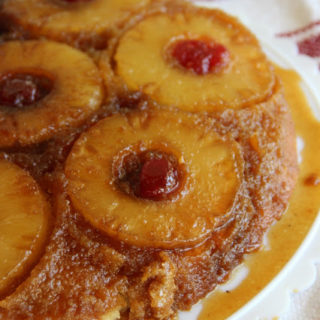 Pineapple Upside Down Skillet Cake
Ingredients
2 1/2 cups all-purpose flour
3 tsp baking powder
1 tsp salt
2 cups granulated sugar
1 stick butter, softened, divided
1/4 cup shortening, softened
1 1/2 cups milk
2 large eggs
2 tsp vanilla
1 20 oz. can pineapple rings, 2 tbsp juice reserved
1 1/2 cups packed brown sugar
maraschino cherries
Instructions
Preheat oven to 350 degrees.
In a mixing bowl, place the flour, baking powder, salt, sugar, 1/2 stick butter, shortening, milk, eggs, vanilla, and reserved pineapple juice and mix until well combined. (There might be small lumps of butter and shortening…its okay). Set aside.
Melt the remaining stick of butter in a 12 in. cast-iron skillet. Swirl it around to coat.
Sprinkle and evenly distribute the brown sugar. Do not stir it. Just make sure the whole skillet is covered in the sugar.
When the brown sugar dissolved, arrange pineapple slices on the top of it, followed by cherries in the center of each pineapple slice.
Pour the batter evenly over the pineapple slices. (I had a little batter left over. I was scared to over-fill the skillet, but the cake did not rise very much. I placed the skillet on a pan in the oven just in case it spilled over, but it didn't:)
Bake the cake for 30 to 40 minutes, until a toothpick inserted in the center comes out clean.
Immediately run a knife around the edge of the cake. Place a cake plate upside down on top of the skillet. Slowly invert it onto the cake plate. It came out great and was super yummy! Serve warm!
Recommended Products
As an Amazon Associate and member of other affiliate programs, I earn from qualifying purchases. This helps us keep our blog running efficiently and allows us to create more recipes for you.