Hey guys!  I don't have a recipe for you today, but I'd love you to check out my first ever Stitch Fix order!!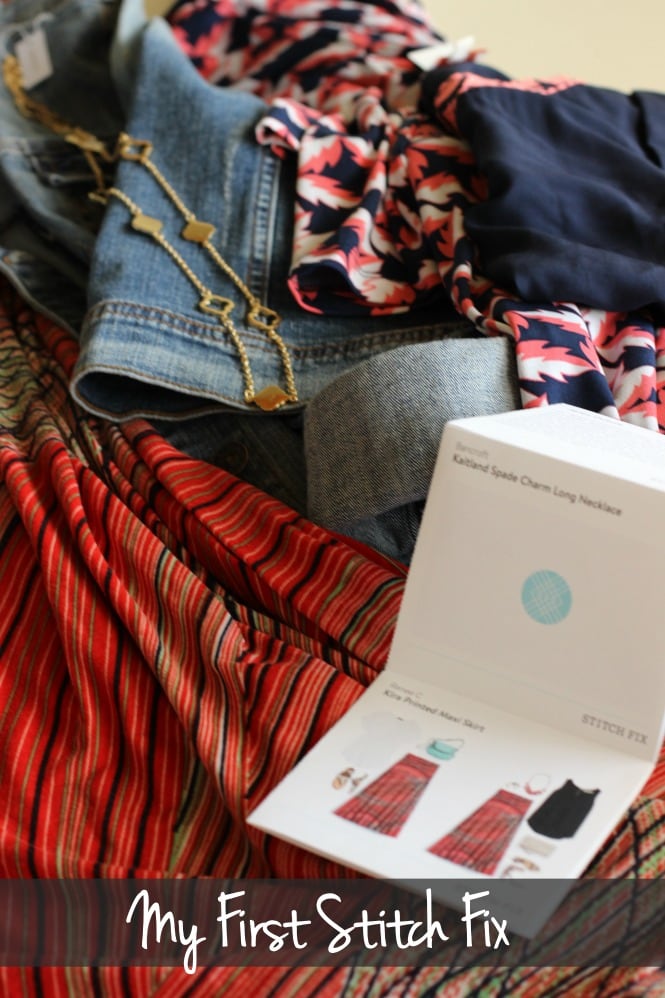 I love clothes.  I love to shop.  I love days when I get to go on shopping trips.  But let's be honest.  I don't have time for all that with all these children!  And so begins my new little journey with Stitch Fix!
I first heard about it a few years ago from some blogging friends.  It sounded like a lot of fun!  You fill out a style profile so that your "personal stylist" can get to know what you like.  Then you get a lovely wrapped package with five pieces shipped right to your door.  Keep what you like and EASILY send back what you don't like.  I'm not sure what took me so long to try it.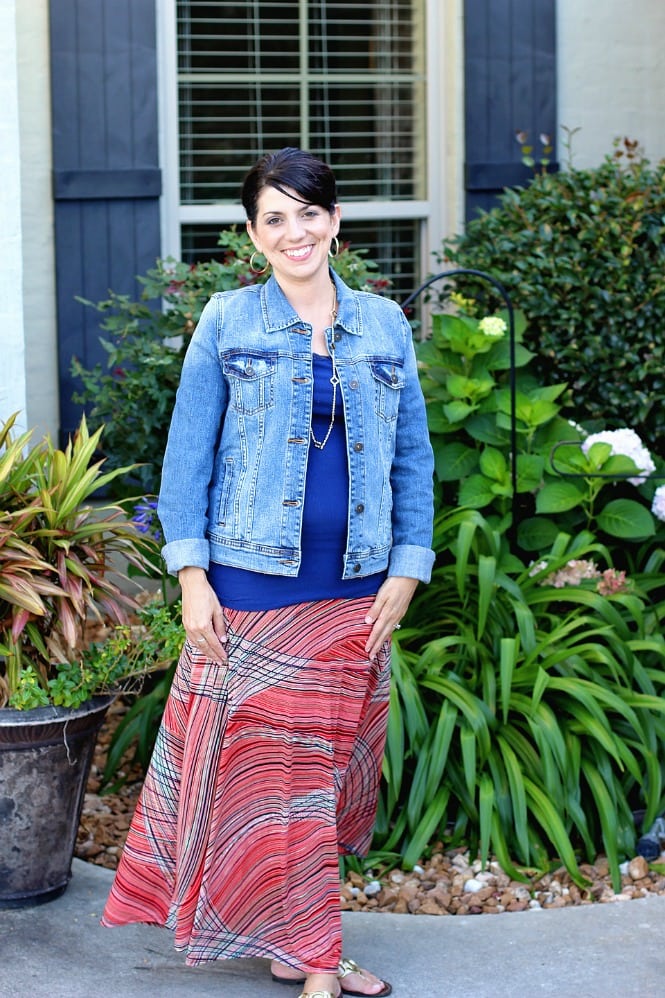 When I started working again this spring, a few co-workers were talking about how much they loved it.  They pretty much were the final selling point for me especially when I saw my friend come in to work with the cutest clothes!  So I hopped on the Stitch Fix bandwagon, filled out my style profile, pinned away on Pinterest with some styles I love, and waited for my box to arrive!  And here it is…

Renee C Kira Printed Maxi Skirt – $58.00
I love maxi skirts!  As a teacher, nothing could be more comfortable in my opinion.  And I loved the print on this one too!  It will go great with a white top, navy top, and with a denim jacket.  Plus, I'm pretty short, and this one did not drag on the floor.  KEPT IT!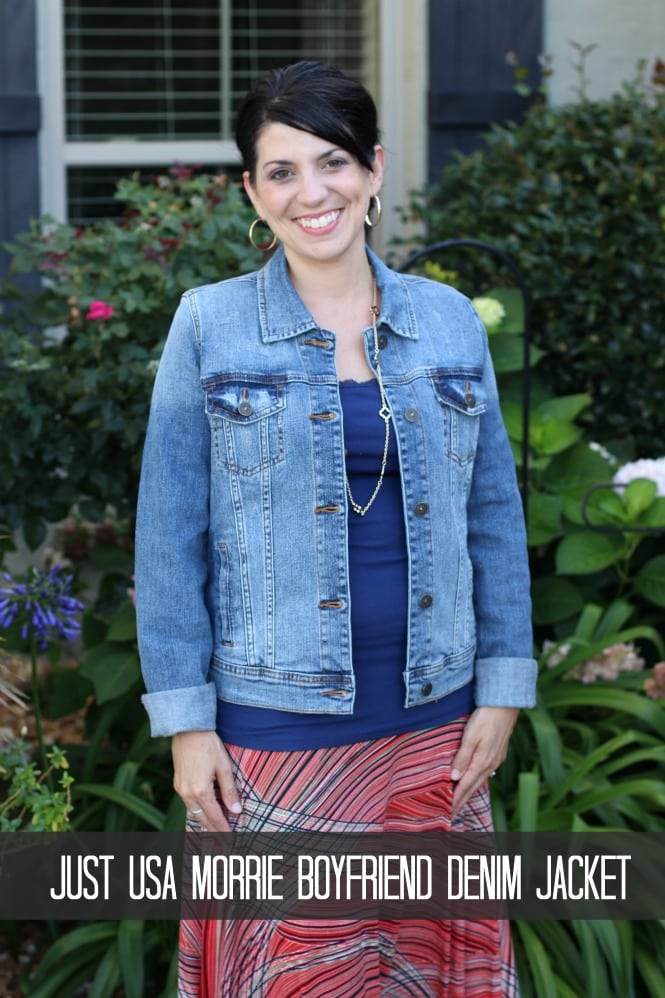 Just USA Morrie Boyfriend Denim Jacket – $58.00
I think everyone needs a good denim jacket!  They are super versatile!  This one was nice, and I really liked the length of it too.  The sleeves were a little long for me, but I rolled them up and it worked fine.  I wanted to keep it because it fit great, but I sent it back because I already have a nice denim jacket.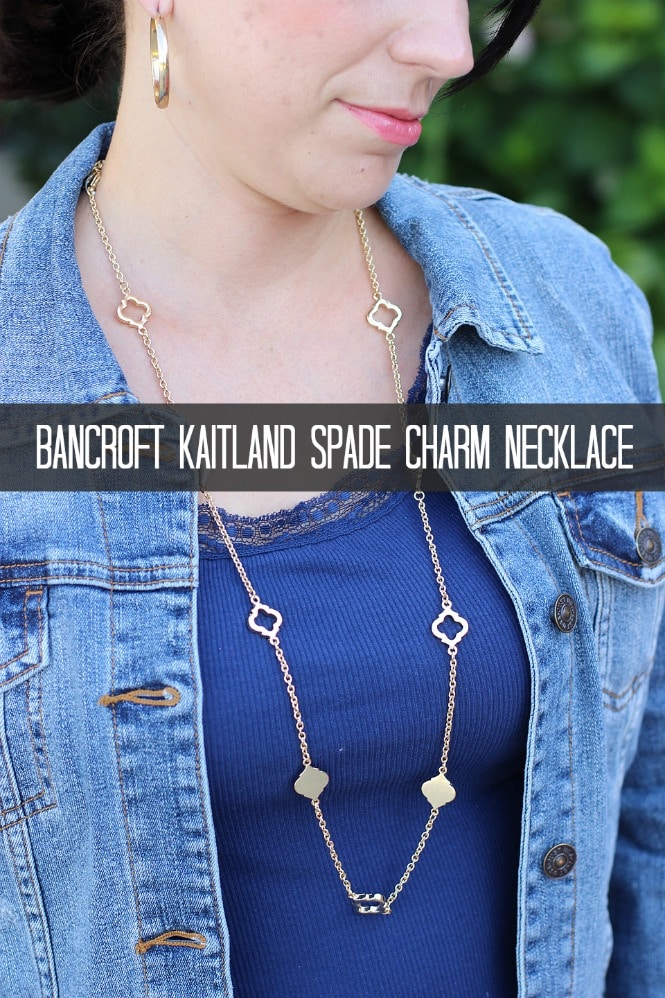 Bancroft Kaitland Spade Charm Necklace – $36.00
I love a good long necklace.  I have another gold one I wear all the time…sometimes too much.  So I liked the idea of having another one to wear.  I know I will get my use out of it!  KEPT IT!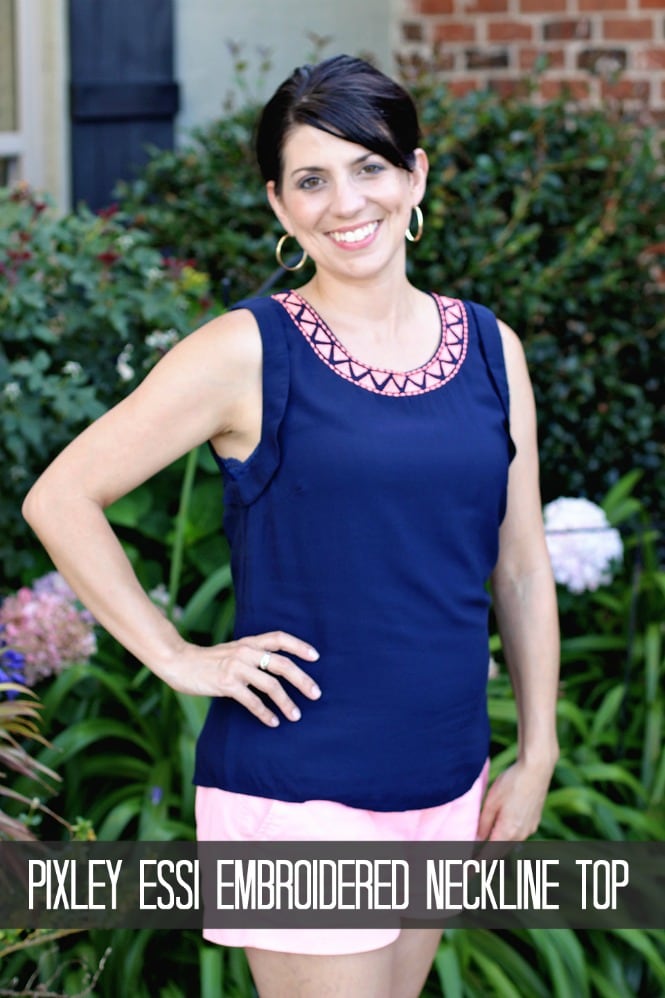 Pixley Essi Embroidered Neckline Top – $54.00
I loved this top!  It went great with some pink shorts I have.  It's perfect for summer too!  KEPT IT!  Here's a close up picture and one of the back.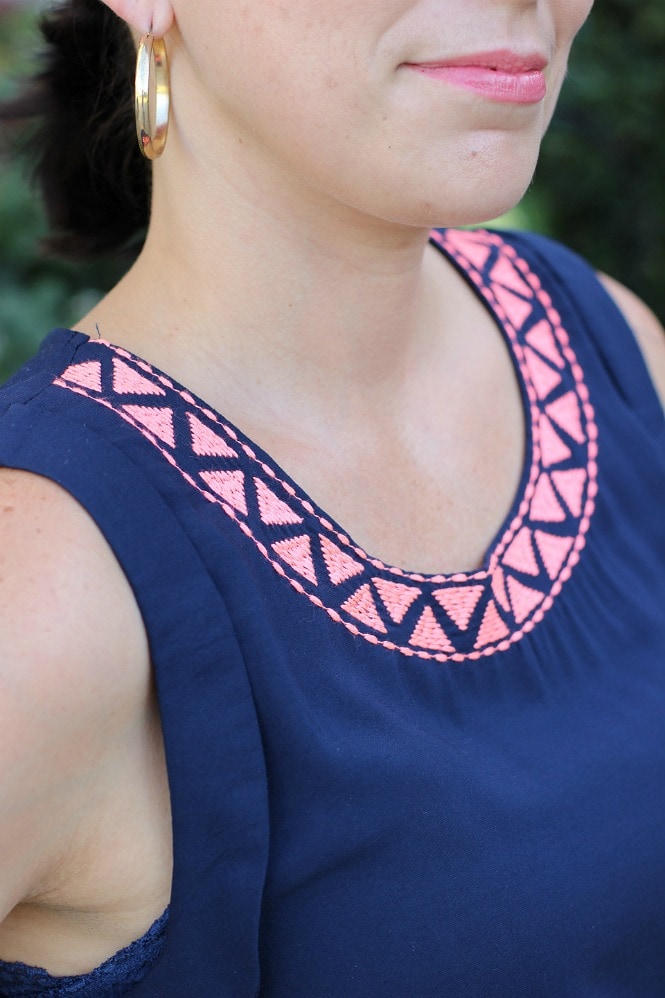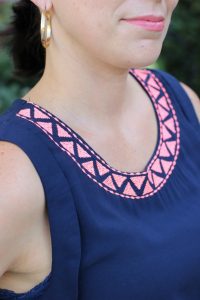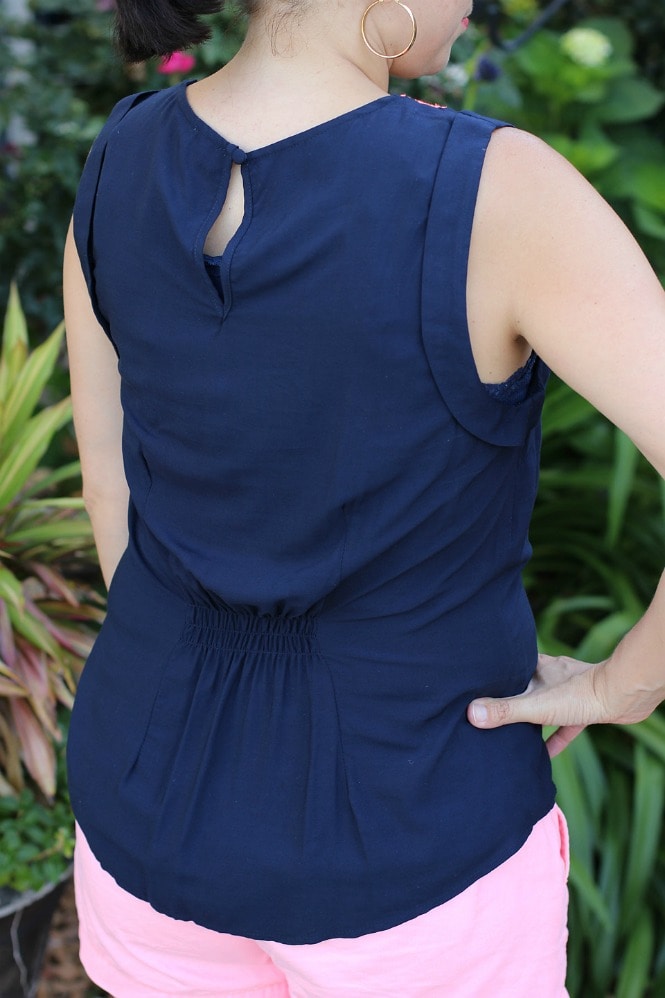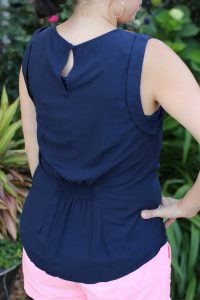 And the final piece…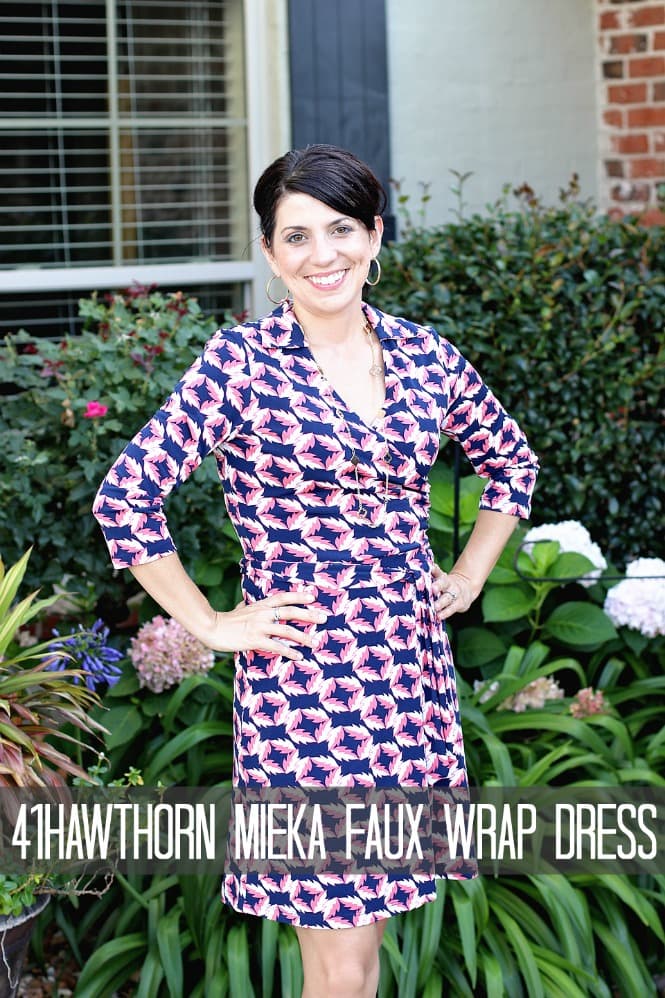 41Hawthorn Mieka Faux Wrap Dress – $74.00
This was one of those pieces that I wanted to love.  I loved the pattern, the colors, the style, and length.  However, I did not like how it fit me.  It was a little too snug, and I tried to talk myself into liking it.  In the end, I returned it because I was afraid I just wouldn't want to wear it.
So here's all the important details you need to know about Stitch Fix:
Get started by filling out your own style profile where you let them know what you like as far as styles, colors, sizes, fit, and price range.
You will pay a $20 style fee, which gets deducted from your total on any pieces you keep.
Schedule your fix whenever you'd like (you can do it monthly or whenever you feel like you need some fun new clothes).
You get 25% off your entire order when you keep all 5 pieces!
Return any items you do not want within 3 days and online check-out is super easy.
Returning is made super simple with a prepaid envelope that you just drop in the mail.
Get personal style cards with ideas for outfits with each piece.
Receive a $25 credit each time you refer someone to Stitch Fix!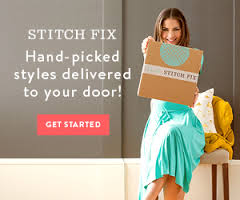 TIPS FOR A GREAT FIX:
1.  Use Pinterest!!  This helps your stylist know what you like!  You can check out my Stitch Fix board here.
2.  Leave feedback for your stylist on what you liked and did not like about your pieces.
3.  Keep your style profile up-to-date and let your stylist know about any important upcoming events.
It's so much fun, and I was super happy with my first fix!  My stylist did a fantastic job at interpreting my personal style.  I cannot wait for my next fix!!  If this sounds like something you would love too, you can sign up here!