Looking for a great snack? Well these Magic Pretzels will disappear in no time!! They are perfect for holiday snacking and gifts!
The original recipe for these came from the
Disney Family website
and are the creation of Ann Hodgman. She talks about how she calls them "magic" because they disappear so quickly. Boy she was right!! I couldn't stop snacking! I made a few little changes to suit what I had in my spice cabinet, and they came out great!
They would make perfect gifts for co-workers or teachers too! Let the kids help pour the ingredients in the bag and shake it up. They'll love it!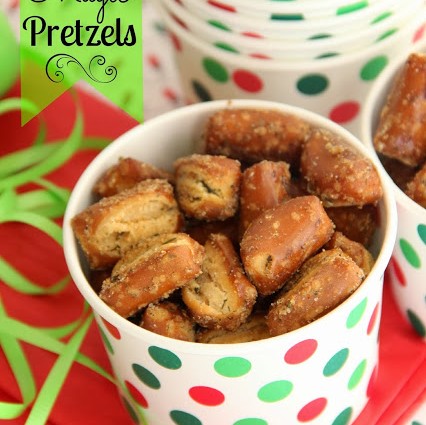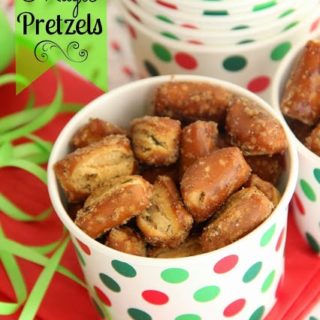 Magic Pretzels
Ingredients
1 cup canola oil
1 package (1 oz) dried ranch dressing mix
1/2 package (1 oz) dried garlic-flavored salad dressing mix
1 tsp dried dill
1/2 tsp red pepper or cayenne pepper
1 pound bag of sourdough pretzels ( I used nuggets or you can buy bigger ones and break them up)
Instructions
Put oil, salad dressing mixes, and seasonings in a gallon-size ziploc bag.
Seal it and shake it up to combine.
Add in pretzels, seal it, and shake it up until they are all coated.
Let them marinate for an hour giving them a shake every now and then.
Pour pretzels onto a large baking sheet lined with foil and bake at 300 degrees for 30 minutes, stirring every 10 minutes.
Let pretzels cool and store them in a sealed container or bag. They'll disappear in no time!