Here is a great dip for when you are looking for an easy appetizer.  It is based on the wonderful King Ranch casserole.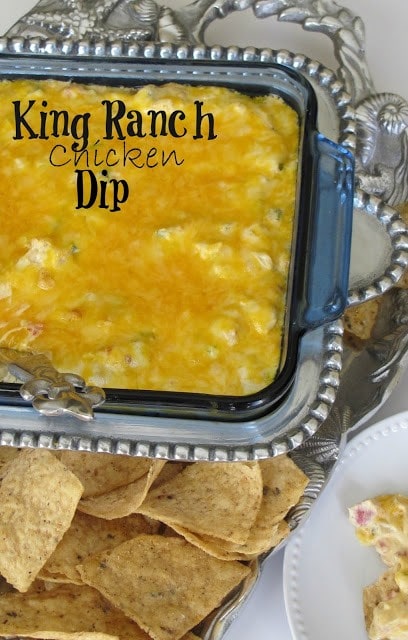 Recipe:
Source-Cooking with Paula Deen Christmas Issue
1 cup chopped onion
1 cup chopped green bell pepper
2 8 oz. packages of cream cheese
1 can cream of chicken
2 cups of chopped cooked chicken (I use 2 packs of precooked Southwestern strips found near the chicken breasts)
2 cups shredded Cheddar cheese
1 can Rotel, drained
2 tsp dried oregano
2 tsp ground cumin
2 tsp chili powder
tortilla chips
Preheat oven to 350.  Heat a large skillet sprayed with cooking spray or add a little oil.  Add the onions and bell peppers and saute over medium-high heat, stirring frequently.  After about 5 minutes or when the onion starts to soften, add cream cheese and soup.  Reduce heat to low and stir until cream cheese melts.  Remove from heat.  Add chicken, 1 1/2 cups shredded cheese, oregano, cumin, and chili powder.  Stir until combined.  Pour into a 9 in. square baking dish.  Sprinkle remaining cheese on top.  Bake, uncovered, for 10 minutes or until bubbly.  Serve with tortilla chips.  I recommend
these artisan chips
.
Enjoy!