Looking for a great summer grilled corn recipe…try this fabulous version with a homemade BBQ butter.
I can't wait for summer to officially get here.  It's going to be a big one for our family!!!
First up:  Surprise Trip to Disney World
and
Second:  We're having baby #4 (2nd boy) in July
So I think we will be a little busy…
but I am also looking forward to the lazy days of summer when we can sit on the back porch, grill up something yummy for supper, and watch the kids swim in the kiddie pool.  I know one day I will miss those sweet memories so much.  I'm trying to take it all in even with all the chaos sometimes.
On those nights, I like to try fun, different recipes.  And I just love my Bobby Flay cookbooks!  Yes some of the lists of ingredients get a little long, but man, his recipes are fabulous!
This is a great one that I adjusted a little.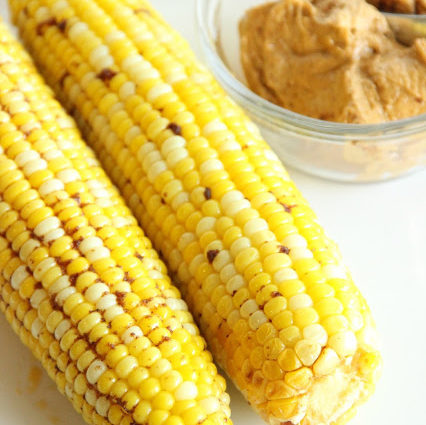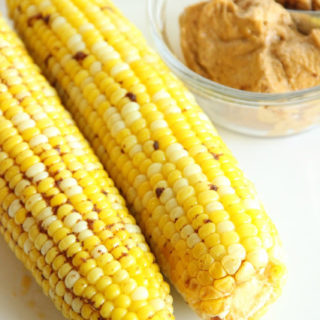 BBQ Frito Corn-on-the-Cob
Ingredients
2 tbsp. canola oil
1/2 small red onion, chopped
2 cloves garlic, chopped ( or use the pre-minced kind)
1 tbsp ancho chili powder (regular will be fine too)
1 tsp paprika (Smoked Paprika if you have it)
1/4 tsp cumin
1/2 tsp cayenne pepper
1/2 cup water
1 stick butter
salt and pepper to taste
4 ears fresh corn
Instructions
Heat the oil in saute pan until really hot.
Add onion and saute for 2 to 3 minutes, or until soft.
Add the garlic and cook for 30 seconds.
Add the chili powder, cumin, cayenne, and paprika.
Stir and cook for a minute.
Add the water and cook until the mixture becomes thickened and the water reduces.
Let it cool slightly.
Place the butter in a food processor, and add the onion mixture (Bobby's original recipe called for 1 1/2 sticks of butter, so I added all the onion mixture but about a tablespoon). Process the mixture until smooth.
Season with salt and pepper to taste.
For the corn: Remove all the husks and silk.
On a sheet of heavy-duty aluminum foil, slather the each corn with the butter mixture. Wrap tightly in foil. Repeat with rest of corn.
Place on gas grill over medium heat for about 20 minutes. Let rest a few minutes. Serve with more butter if desired.
Notes
Adapted from Bobby Flay Boy Gets Grill


I'm linking up with:
Weekend Retreat 65
Best of the Weekend 51
Show Stopper Saturday
Saturday Night Fever 32