This flatbread is perfect for an appetizer, snack, or a meal with a salad.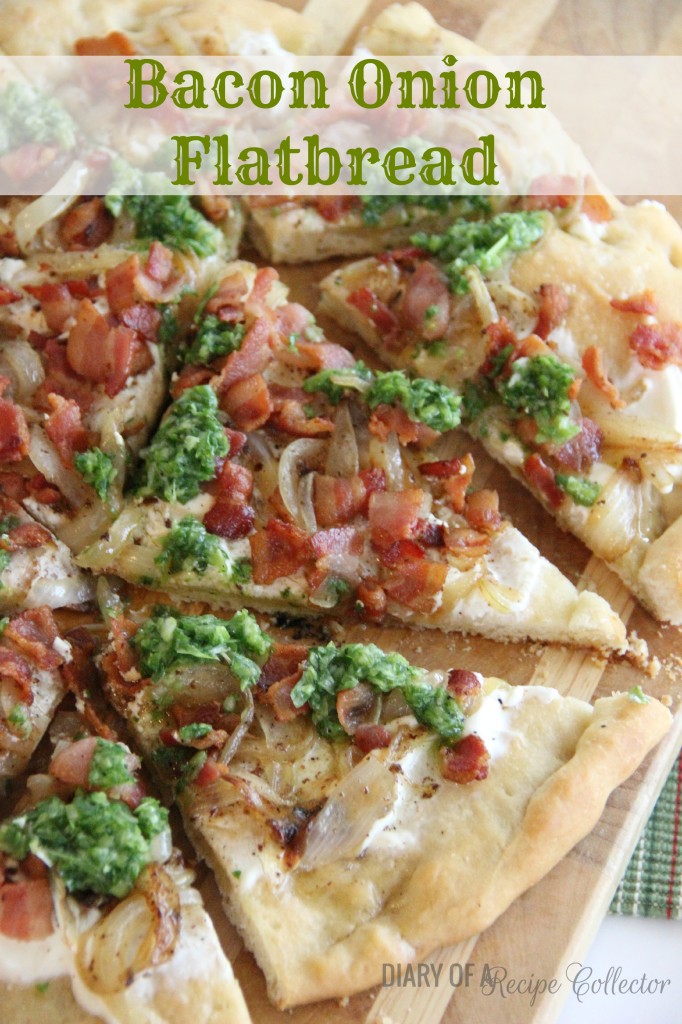 I hope you all had a great Easter weekend.  We have stayed so busy the last four days with Easter parties, egg hunts, and church activities.  I am looking forward to a week of normalcy.
Is that even possible with my kids off for spring break?  Maybe not but we shall see.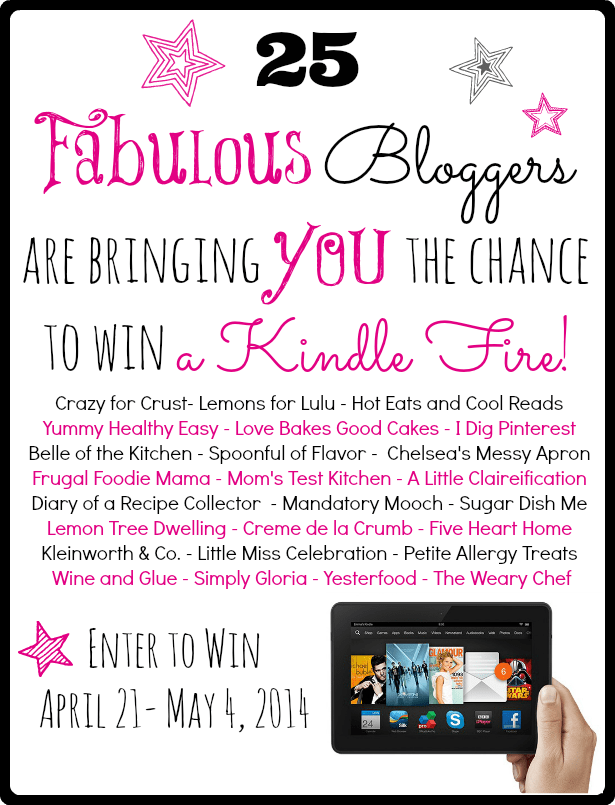 One thing I'm super excited about this week is an awesome giveaway I'm helping host.  I've teamed up with 24 other FABULOUS bloggers, and we are giving away a Kindle Fire.  This is so perfect for Mother's Day or summer reading on the beach.  All you have to do is enter below.  You can also see what these other great ladies have up on their blogs too.
Belle of the Kitchen – I Dig Pinterest – Lemons for Lulu
Chelsea's Messy Apron – Crazy for Crust – Kleinworth & Co.
Sugar Dish Me – Spoonful of Flavor – Simply Gloria
Five Heart Home – Yesterfood – Petite Allergy Treats
Hot Eats and Cool Reads – Mom's Test Kitchen – Frugal Foodie Mama
Yummy Healthy Easy – Love Bakes Good Cakes – Diary of a Recipe Collector
The Mandatory Mooch – Lemon Tree Dwelling – Wine & Glue
Little Miss Celebration – Call Me PMc – A Little Claireification
a Rafflecopter giveaway

Today I wanted to share my take on a great flatbread recipe I found several years ago in the Food Network Magazine.  It has bacon, onions, and sour cream.  What's not to love?  Serve it up with a salad and you've got dinner and some for lunch the next day.
Recipe:
6 strips of bacon, chopped
1 large onion, sliced thin
pinch of sugar
salt and pepper
6 green onions, roughly chopped
1/4 cup fresh parsley
zest of 1/2 lemon
1/4 cup olive oil
1/2 cup sour cream
1 pound pizza dough*
Preheat the oven to 450 degrees.  Cook the bacon in a skillet until crispy.  Remove to a paper towel lined plate.  Add sliced onions to skillet.  Sprinkle with sugar, salt, and pepper.  Stir occasionally and cook onions for about 10 minutes or until soft and golden.
Spread pizza dough using fingers to help stretch it out into an 8 x 12 inch rectangle on a pizza stone or pan.  Bake for 10 minutes or until golden brown.
In a blender or small food processor, combine the green onions, parsley, and lemon zest.  With the blender/food processor on, add in the olive oil and finish blending.  Transfer to a bowl.
Once crust is done, spread sour cream over warm crust.  Top with bacon, onions, and dollops of green onion mixture.  Slice across into triangles and serve.
*Pizza dough (other than in the refrigerated can) is not easy to find in my area.  I usually need to make my own.  I have tried several different recipes for pizza dough.  My new favorite is from Pioneer Woman.  First, I like it because it is super easy to mix together.  Second, I like it because it comes out crispy.  So if you don't have your own, give this one a try.
1 tsp active yeast
3/4 cup warm water
2 cups all-purpose flour
3/4 tsp kosher salt
3 tbsp olive oil
In a small bowl, mix yeast with warm water.  Let it set for 10 minutes.  Using an electric mixer, add flour and salt to the bowl.  Turn mixer on low and add olive oil slowly.  Add in yeast mixture.  Keep mixing for about 7 minutes.  Dough comes together very quickly.  Transfer to a bowl greased with olive oil.  Set in a warm place to rise for 1 hour.
This makes enough for 2 pizzas.  Freeze the extra if you like, or it can be refrigerated for a few days.
I'm linking up with:
Sweet and Savoury Sundays 58
Time to Sparkle 57
Best of the Weekend 50
Weekend Re-Treat 64
Show Stopper Saturday
Saturday Night Fever 31
Mandy's Recipe Box