Santa Fe Chicken Enchilada Stack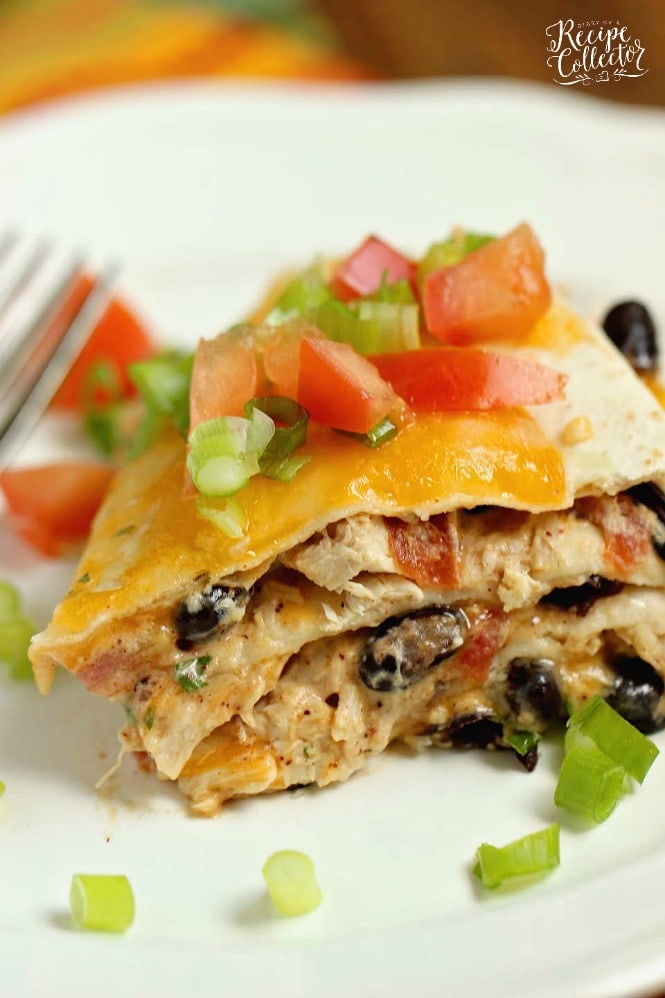 2 chicken breasts, cooked and shredded*
4 oz cream cheese
½ cup half and half
¾ cup salsa*
1 tsp chili powder
½ tsp cumin
½ tsp salt
1 cup canned black beans, rinsed and drained
4 whole wheat soft taco tortillas
8 oz Colby Jack cheese, shredded
1 tbsp chopped cilantro
2 roma tomatoes, chopped
2 green onions, chopped
sour cream (optional)
Heat cream cheese and half and half in a large sauce pan over medium heat until cream cheese is melted.
Stir in salsa, chili powder, cumin, and salt.
Add chicken and let cook for about 3 to 5 minutes.
Remove from heat and add cilantro and stir.
Spray an 8 x 8 casserole dish with cooking spray. Lay 1 tortilla in bottom of dish. Spread ⅓ of chicken mixture and top with a little shredded cheese. Layer another tortilla, another ⅓ of chicken mixture, and some more shredded cheese. Repeat one more time with tortilla, chicken mixture, and cheese. Finally top with one more tortilla and remaining cheese.
Bake at 350 for 20 minutes. Top with tomatoes and green onions. Serve with sour cream.
*Rotisserie chicken would work great.
* You can use a can of Rotel, just drain the water a little.
Recipe by
Diary of A Recipe Collector
at https://www.diaryofarecipecollector.com/santa-fe-chicken-enchilada-stack.html