Tator Tot Breakfast Casserole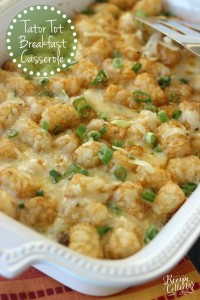 1 lb. breakfast sausage
8 eggs
¼ cup milk
3 green onions, sliced
6 to 8 oz. pepperjack, shredded
½ of a 28 oz bag Tator Tots
salt and pepper
cooking oil spray
Preheat oven to 400 degrees.
Brown sausage in a skillet until cooked. Drain.
In a small bowl, whisk eggs and milk.
Spray a 13 x 9 pan with cooking oil spray. Layer sausage, eggs, a cup of shredded cheese, and green onions (reserving a few for topping). Top with tator tots.
Bake for 25 to 30 minutes or until tator tots are browned and crispy. Remove from oven and top with remaining cheese and green onions. Season with salt and pepper to taste.